#
Name
Price
Changes 24h
Market CAP
Volume
Supply
About Waves
Waves is a multi-purpose blockchain platform which supports various use cases including decentralized applications (DApps) and smart contracts.
Launched in June 2016 following one of the cryptocurrency industry's earliest initial coin offerings (ICO), Waves initially set out to improve on the first blockchain platforms by increasing speed, utility and user-friendliness.
The platform has undergone various changes and added new spin-off features to build on its original design.
Waves' native token is WAVES, an uncapped supply token used for standard payments such as block rewards.
Waves is synonymous with its founder, Ukrainian-born scientist Alexander Ivanov (also known as Sasha Ivanov).
Prior to creating Waves, Ivanov was already active in the cryptocurrency space, having released the now-defunct instant exchange Coinomat and indexing site Cooleindex. He also created an early version of a stablecoin, CoinoUSD, tied to the U.S. dollar.
Ivanov is publicly active in his promotion of Waves, giving frequent interviews on the platform and trends in the wider blockchain industry.
According to Waves' marketing literature, the company now employs over 180 people at locations including Moscow and Switzerland.
The Role Of The Waves Decentralized Exchange (DEX)
The Waves' decentralized exchanges DEX is an integral part of the platform's ecosystem. As such, it is designed to support the platform's token creation capabilities and offer basic trading functionalities with guaranteed anonymity. For starters, the users' tokens on this decentralized exchange are stored directly in their wallets, reducing the hacking risks associated with the centralized exchanges. Similarly, the exchange administrators' authority is also decentralized, meaning that no sanctions against the users' funds can be imposed arbitrarily, such as in the case of having one's funds frozen or imposing limits on their trading and withdrawing capacity.
The DEX exchange has implemented an automated matching system for buying and selling orders as well as for the management of token exchange once the orders' requirements are met. As the matchmaking software of the Decentralized Exchanges platform is an open-source one, the nodes on the network can implement their own matchmaking systems and earn Waves tokens in exchange for handling trading transactions.
The Waves' developers have expressed a desire to establish partnerships with banks which want to issue their own fiat tokens. To them and other business partners, the Waves team promises the following benefits:
Genuine liquidity with more than USD 6,310,000 as the average 24h volume.
Lower fees, amounting to less than USD 0.01 (0.003 WAVES) per order.
The exchange serves as the gateway for several fiat and cryptocurrencies, including EUR, USD, TRY, BTC, BCH, ETH, WAVES, ZEC, DASH, LTC and XMR.
Unlimited withdrawal limits for cryptocurrencies.
The exchange supports various devices, with supported browser-based access and dedicated mobile versions.
In addition to its aim to win over the financial industry players, the Waves platform has to hope that these features will be sufficiently attractive to draw the users away from its immediate competitors such as IDEX and Kyber Network.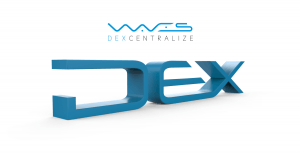 How Does Waves work?
---
The Waves blockchain allows two different types of nodes to run its software: full nodes and the lightweight nodes. 
Full nodes keep a complete history of the transactions, while lightweight nodes depend on full nodes for transaction confirmation and interactions within the network. 
To keep its distributed network in sync, Waves uses a variation of the proof-of-stake (PoS) consensus mechanism called leased proof-of-stake (LPoS).
The Waves LPoS Blockchain
In a traditional proof-of-stake model, any node that chooses to lock up tokens can be eligible to add blocks to the blockchain. The chances that a node will be able to add a block generally increase or decrease depending on the amount of coins a node has locked in a special contract. 
With the LPoS, nodes also have the option to lease their balance to full nodes. 
This means that when a full node is selected to produce the next block and is compensated, nodes that lease tokens to that selected node earn a certain percentage of the payout. 
Waves-NG
The protocol that determines which node gets the right to produce the next block is called Waves-NG, and it is a modification of an idea first proposed (but rejected) for Bitcoin (BTC). 
Smart Assets 
Central to the Waves blockchain is the ability to create 'Smart Assets,' tokens with an attached script written in Ride, a programming language native to Waves. Any token can be given functionalities by attaching a script. The execution of the scripts costs 0.004 WAVES.
Since Waves enables users to issue tokens without any programming experience, the tokens and subsequent transfers are done as attachments added to transactions. 
Different transaction types are introduced through plug-ins that are installed as extensions on top of the blockchain.
How Are the Transactions Managed On Waves?
To make this possible, the Waves platform is designed to support both creating tokens and making transfers with them as if they were "attachments" to new transactions on the blockchain. This is done to get around the issue related to adding new transaction types to an existing network, which comes with the risk of having to deal with hard forks. The reason for this is the fact that a network's client software needs to be updated to support these transactions.
What the Waves platform does to contend with this is to treat the new transactions as plugins, meaning that they are not treated as the "core" of the client software used to manage them. Instead of this, these new transaction types are treated as "extensions" of the client software which means that the users can relay them and take part in the network's operations, despite not having the appropriate plugins installed. This provides the third-party developers with the flexibility to create and offer new types of transactions within an environment which resembles application stores most of the users are familiar with.
Waves 1.0 – Where We Are Today
The Waves blockchain started 2022 with more than 2 million user wallets and a vibrant community across successful projects such as Waves.Exchange, Vires.Finance, and WavesDucks.com. With 100k+ transactions in the mainnet daily and more than 250 validators, Waves boasts a throughput of thousands of transactions per second. The current Total Value Locked (TVL) in the network is $2B and about 80% of tokens are locked in staking. All of these have been achieved without any VC funding in the last 5 years.
Waves 2.0 – Where We Are Going
Now it's time to become the ultimate platform for developers, creators, and millions of users.  To reach these ambitious goals, we are building a multi nuclei structure.
Key Points:
Waves 2.0: New Consensus with Ethereum Virtual Machine Support
Open Collective. New governance models

DAO Framework

Cross-chain finance: Bridge to all chains

Gravity Bridges
Universal Bridge Integration

Meta: A bridge between digital worlds

Level 0 Inter-Metaverse Protocol

US Company and Accelerator Program

US Company
Accelerator Program

Projected Timeline
 (1 ➝ 2) – Join The Movement
Secure Transactions Signing
To sign a transaction, for example, a dApp script invocation or a token transfer, the private key of the sender account is needed. However, if your application serves multiple users, you do not have access to their private keys. Knowing the secret phrase (seed) or private key, you can do anything on behalf of the account, that's why you should not ask users for their secret phrase or private key. Users are strongly advised not to share the secret phrase and private key with anyone, and users do not trust sites and applications that require this data.
The solution is to obtain a user signature for each transaction. To do this, you need an interface with a wallet application that stores the user's account keys securely and signs transactions itself. Before signing, the user can view the details of the transaction, confirm or reject it.
The following tools provide such interfaces:
Waves Keeper API uses the Waves Keeper extension installed in the user's browser. Waves Keeper is one of the most secure ways to manage keys, however its installation can be a threshold for new users. In addition, Waves Keeper is not available in mobile browsers.
Waves Signer is a TypeScript/JavaScript library that works in any browser. Signer is a unified interface for interacting with third-party signature provider libraries. ProviderWeb and ProviderCloud, developed by the Waves.Exchange team, are now available, with more to be added in the future. Suffice it to initialize the provider libraries in your application and use the same functions for obtaining the signature. Furthermore, Signer delivers a smooth user experience based on the iframe.
Waves SDK for Android and Waves SDK for iOS use the Waves.Exchange mobile app installed on the user's device.
Smart Contract
The Waves protocol maintains three types of smart contracts:
dApp comprises functions that can be called using an Invoke Script transaction. The called functions can accept payments to the dApp and perform various actions on the blockchain. In addition, the dApp can comprise a verifier function that allows or denies transactions and orders sent on behalf of the account depending on whether they meet the specified conditions.
Smart account allows or rejects transactions or orders sent on behalf of the account.
Smart asset allows or rejects transactions involving the asset.
For smart development creation, Waves provides its native language called Ride. Ride is a functional, expression-based programming language specifically designed for execution within a blockchain environment, straightforward and concise.
What Makes Waves Unique?
As one of the first offerings in its field, Waves set out to improve on the early blockchain platforms and products.
From the outset, it aimed to appeal to prospective business clients looking to use blockchain to improve processes or create new services.
Waves supported smart contract and DApp development, ensuring that speeds and ease-of-use surpassed competition at the time.
Since then, other products have appeared, including Gravity, a cross-chain and oracle network, and decentralized finance (DeFi) focused platform Neutrino. Waves DEX is a decentralized cryptocurrency exchange.
In 2020, Waves announced that its platform would be interoperable with the Ethereum network by releasing the WAVES token as an ERC-20 standard asset.
How Many Waves (WAVES) Coins Are There in Circulation?
WAVES began as a fixed-cap token for the Waves platform with 100 million tokens available.
In its ICO — which raised 30,000 BTC — 85% of the supply went to sale participants, 4% to partners and supporters, 9% to the developers and 1% each to early supporters and bounty schemes which occurred after the ICO.
Its utility increased in time, and in 2019, it was decided to remove the supply cap, with decision-making transferred to network participants.
Currently, the block reward is 6 WAVES, and any changes come in the form of votes — users must choose whether or not to decrease the block reward by 0.5 WAVES every 110,000 blocks.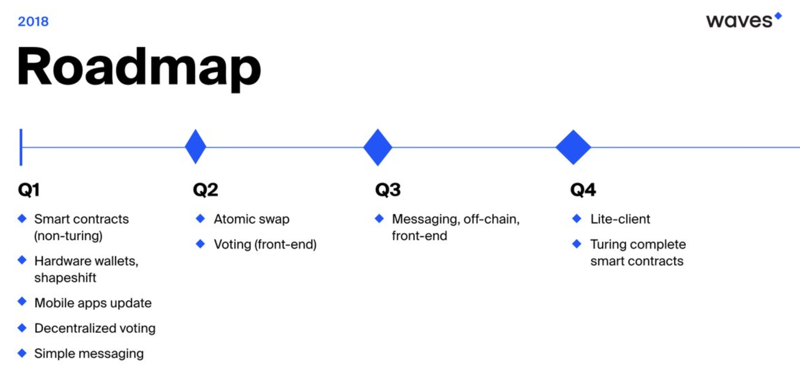 Advantages Of Waves Platform
WAVES provides an easy platform to launch an ICO
WAVES has amazing crowdfunding capabilities. It has already launched many ICOs on its platform successfully. We have already seen the advantages of investing in the platforms that support the launch of other crypto tokens also. It is also beneficial for the growth of existing ICOs.
Fixed Supply of Waves Coin
WAVES coin have fixed supply of 100 million and these are already in circulation. The demand and supply factors greatly influence the price of any cryptocurrency. As we know that WAVES token is needed to accomplish almost every task on the platform. In such a situation the finite supply of WAVES coin will definitely lead to increase in the value of the WAVES tokens as its adoption increases.
Tokens Flexibility
The WAVES platform provides token flexibility. It gives the users an opportunity to pay the transaction fees not in the WAVES coin only but in any other token on the blockchain. Each participant can tell which token it will accept as a transaction fee. This means that the businesses have to deal with their own token only.
Does not need blockchain download
The WAVES does not require you to download the complete WAVES Blockchain. The WAVES Lite Client connects directly to a node in the WAVES Platform. This allows the entire set up – the installation and account creation to be done in few minutes.
WAVES Mobile Client
WAVES also provides a mobile application for Android and IOS mobile devices. This Mobile Client allows the users to make various payments, check their balance in their wallet, and trade from anywhere and anytime.
WAVES Platform saves a lot of power 
Since WAVES Platform uses Proof-of-stake (POS) system for mining operations, it saves a lot of electric power. The proof of work kind of mining, on the other hand, needs a lot of computational power and heat as it involves solving very tough algorithms. Also, because of POS, it is impossible to experience a chain split in the network.
KYC/AML
KYC and AML requirements have to be given by the users for depositing or withdrawing fiat currency to or from the fiat gateway. This makes WAVES Platform more secure
Disadvantages Of WAVES Platform
The crowdfunding space is already crowded
One of the important functions of WAVES is that it provides a crowdfunding platform. But there are already many competitive players in this area. Ethereum is the biggest example. Since ICOs are very popular nowadays so the pie of crowdfunding is big enough for all the investors to get a slice!
The WAVES platform is not easy to use.
The user interface of WAVES Lite Client is quite difficult to navigate. The underlying technology of WAVES is also complex, so ease of use could not be expected. This makes it difficult for an average individual trying to enter the crypto world to utilize the WAVES platform to build/develop own cryptocurrency/token.
Security Concerns
The WAVES platform does not implement Two Factor Authentication. Also, you cannot store your WAVES coin on the most popular hardware wallets such as Ledger, Trezor, etc.
Difference Between Waves And Ethereum | How Is Waves Different From Etherem?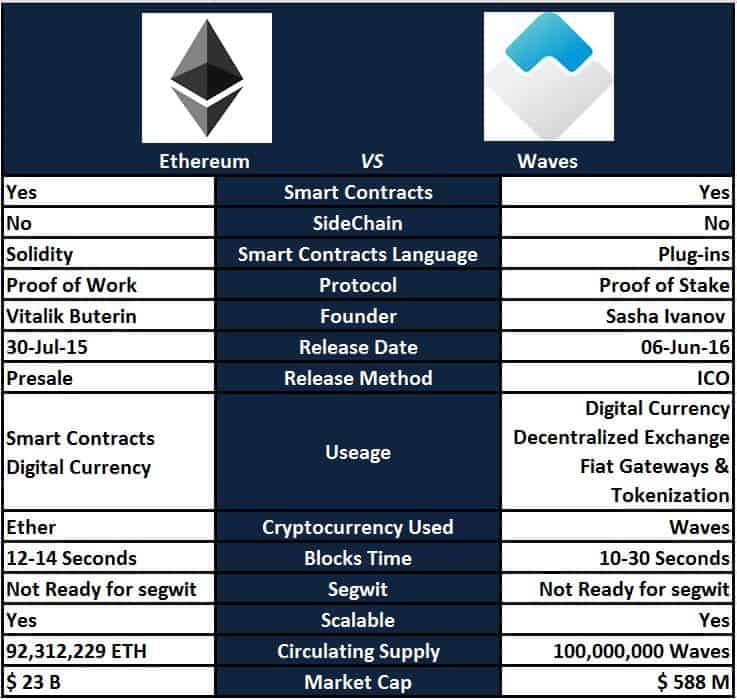 How Is the Waves Network Secured?
Waves uses a modified proof-of-stake algorithm called WavesNG. The technology is based on Bitcoin-NG, a scaling proposal by well-known Bitcoin advocate, Cornell University developer Emin Gün Sirer.
Waves highlights that its code is open source, allowing for more trust and ease of maintenance than closed source enterprise blockchain solutions.
How To Buy WAVES COIN
You can buy WAVES coin by using WAVES Lite Wallet. The process is as follows:
Go to this website https://waveswallet.io/
Click on New Account and register there. You don't need any phone number or email.
Note down the seed
Click on deposit on the WAVES wallet area.
Enter the amount in the currency of your choice EUR/USD.
Click on buy
Then pay using the secure gateway.
The WAVES will be credited to your WAVES wallet.
Remember: Your seed is important and must be kept safely as it is the only way to recover your account if the wallet is lost, data is corrupted, or hardware failure. The seed will also enable you to import your account on other devices.
You can also buy WAVES coin from the following cryptocurrency exchanges:
Binance
Bittrex
WavesDEX
YoBit
Tidex
Livecoin
COSS
Liqui
Gate.io
Upbit
HitBTC
and Conrail
Waves Crypto Price Prediction: Will It Extend Recent Gains?
The coin, which launched in June 2016, has broken out of the broader market trend as the project has announced major upgrades and cryptocurrency users have moved money into Ukrainian and Russian developed coins. Waves was created by Ukrainian scientist Sasha Ivanov.
Launched in June 2016 with one of the first initial coin offerings (ICOs), Waves initially intended to improve on the original blockchains by offering increasing speed and utility in a user-friendly way. The project has since added new features and made various changes. Its focus now is on providing an open-source platform for decentralised applications (DApps) using Proof-of-Stake (PoS) consensus to process transactions with a low carbon footprint.
Before Waves, Ivanov launched the now-defunct Coinomat exchange and the indexing site Cooleindex. He also created CoinoUSD, an early US dollar pegged stablecoin.
"Waves' technology stack can benefit in any use cases that demand security and decentralisation – open finance, personal identification, gaming, sensitive data and many others," according to the project's website.
"The Waves blockchain started 2022 with more than two million user wallets and a vibrant community across successful projects such as Waves.Exchange, Vires.Finance and WavesDucks.com. With 100k+ transactions in the mainnet daily and more than 250 validators, Waves boasts a throughput of thousands of transactions per second," the website states. "The current total value locked (TVL) in the network is $2bn and about 80% of tokens are locked in staking. All of these have been achieved without any VC funding in the last five years."
The Waves blockchain supports decentralised finance (DeFi) apps such as Vires.Finance, a peer-to-contract money market protocol launched in 2021 that uses a pool-based strategy for loans. In March 2021, Waves chose Singapore-based fintech company Tokenomika to become the operator of the Waves Enterprise mainnet to develop its hybrid blockchain approach.
On 10 February, the development team announced plans to transition to Waves 2.0 using Practical Proof-of-Stake Sharding (PPOSS) consensus and providing support for Ethereum Virtual Machine (EVM).
And on 21 February, cross-chain token bridge Allbridge announced it is taking the opportunity the upgrade offers to integrate with Waves.
"With the imminent consensus update to Practical Proof-of-Stake Sharding, Waves infrastructure will support the integration of various DeFi features and become more accessible to the external teams. That's why we thought it would be a great opportunity to integrate Waves with Allbridge. Our goal is to create a unique bridge between Waves and supported EVM as well as non-EVM chains, such as NEAR Protocol, Solana and Terra."