#
Name
Price
Changes 24h
Market CAP
Volume
Supply
What Is SHIBA INU (SHIB)?
Once upon a time, there was a very special dog. That dog was a Shiba Inu, and this dog inspired millions of people around the world to invest money into tokens with the dog's image on it.
According to the SHIBA INU website, SHIB is the "DOGECOIN KILLER" and is listed on their own ShibaSwap, a DEX. Shiba Inu coin was created anonymously in August 2020 under the pseudonym "Ryoshi." Ryoshi says about himself that he is a nobody and not important and that the efforts to unmask his identity, even if successful, would be underwhelming.
This meme coin quickly gained speed and value as a community of investors was drawn in by the cute charm of the coin paired with headlines and tweets from personalities like Elon Musk and Vitalik Buterin. Vitalik Buterin was long believed to be the originator of Shiba Inu, but denied such rumors on the Lex Fridman podcast on June 5, 2021.
Shiba Inu aims to be the Ethereum-based counterpart to Dogecoin's Srypt-based mining algorithm. Shiba Inu and the SHIB token are part of a swarm of dog-themed cryptocurrencies, including Baby Dogecoin (BabyDoge), Dogecoin (DOGE), JINDO INU (JIND), Alaska Inu (LAS) and Alaskan Malamute Token (LASM). These lesser-valued tokens have attracted investors who missed the Dogecoin pump from 0.0002 to nearly 0.75 USD.
Shiba's success sparked an avalanche of copycats, such as BitShiba, Shiba Fantom, Shibalana, King Shiba, SHIBAVAX, Captain Shibarrow, SHIBA2K22, SpookyShiba and countless others. In total, there may be well over 100 Shiba Inu copies, and the number keeps rising constantly.
On Sept. 17, 2021, Coinbase, the largest U.S.-based crypto exchange, listed Shiba Inu on their platform. This news caused Shiba Inu price to rise by over 40% in the following two days, bringing the meme dog token into the spotlight again.
Shiba Inu has since attracted more interest from other exchanges as well. Bitso, Mexico's biggest cryptocurrency exchange, announced in September that SHIB would start trading on its exchange. Giottus, an Indian crypto exchange, announced the same. Bitstamp, the biggest crypto exchange in Europe, said that it would list Shiba Inu for trading at the beginning of 2022. Korbit, a South Korean exchange, became the country's first exchange to list the SHIB token in 2021.
Understanding Shiba Inu
The guiding tenets of the Shiba Inu ecosystem are spelled out in a "woof paper" (presumably a play on white paper), available at the ShibaToken.com website.
According to the paper, Shiba Inu was developed as the answer to a simple question: "What would happen if a cryptocurrency project was 100% run by its community?" Its founder Ryoshi attributes its origins to an "experiment in decentralized spontaneous community building." According to Ryoshi, the power of collective decentralization can build something stronger than a centralized team ever could create.
The SHIBArmy's base of over 500,000 members embrace its founding principles, which are:
The project started from zero, with zero, in the spirit of creating something out of nothing;
It was not founded from an existing community or preassembled team; and
A professed love of Shiba Inu dogs.
Because Shiba Inu is an Ethereum-based ERC-20 token, it is created on and hosted by the Ethereum blockchain, instead of its own blockchain. Ryoshi states in the paper that he chose to build the Shiba Inu ecosystem on Ethereum because it was already secure and well-established, and it allowed the project to stay decentralized.
Most meme currencies offer no utility whatsoever. Shiba inu, however, has a community-driven rescue campaign for Shiba Inu dogs and an ecosystem of products and services, including a decentralized exchange named ShibaSwap. The peer-to-peer trading platform lets users trade SHIB to and from other cryptocurrencies. Users can also provide liquidity and stake the ecosystem's three tokens (deposit them into a smart contract) to earn interest.
The BONE token is a governance token with a total supply of 250 million. BONE holders can propose and vote on changes to the Shiba protocol through the Doggy DAO, which stands for decentralized autonomous organization and refers to an organization managed by computer-based rules instead of a single controlling member. In addition, BONE is used to reward liquidity providers on ShibaSwap's platform.
LEASH, or "Doge Killer", was originally a rebase token pegged to dogecoin, where its supply was automatically adjusted by the protocol to keep its price in line with doge at a ratio of 1:1000. That is no longer the case today as the rebasing algorithm was removed, meaning LEASH now acts as a store of value coin in the Shiba ecosystem with a limited supply of just 107,647 coins.
The ShibaSwap decentralized exchange offers several functions, including:
Providing a liquidity pool (Dig)
Cashing out liquidity pool tokens and redeeming BONE rewards (Woof)
Staking SHIB, LEASH and BONE or one or two of the tokens to receive BONE tokens (Bury)
Swapping between multiple assets (Swap)
Analytics dashboard to track interest rates and yield returns (Bonefolio)
Shiboshi NFTs: 10,000 unique pixelated images of cartoon Shiba Inu non-fungible tokens.
The Shiba Inu Ecosystem
The Shiba Inu ecosystem consists of the following three tokens:
Shiba Inu (SHIB): This is the project's foundational currency. Starting with a supply of 1 quadrillion (equal to 1,000 trillion), Ryoshi locked 50% in Uniswap (for liquidity purposes) and then sent the other 50% to Ethereum co-founder Vitalik Buterin for safekeeping.

14

 In May 2021, Buterin donated more than 50 trillion Shiba Inu coins, then worth over $1 billion, to a COVID-19 relief fund in India, when the nation was reeling from the Delta variant of the coronavirus.

15

 Shortly thereafter, Buterin also "burned"—or permanently removed from circulation—40% of Shiba Inu's total supply to a so-called dead wallet.

16

Leash (LEASH): The second token in the Shiba Inu ecosystem, Leash represents the other end of the ecosystem's spectrum, with a total supply of only 107,646 tokens compared with the trillions of Shiba Inu tokens.

17

Bone (BONE): Bone fits in between the other two tokens in terms of circulation supply, with a total supply of 250,000,000 tokens. It is designed to be a governance token that will allow the SHIBArmy to vote on upcoming proposals.
ShibaSwap: The goal of DeFi platform ShibaSwap is to provide a safe place to trade cryptocurrencies while remaining decentralized. SHIB and LEASH are best purchased and sold through ShibaSwap.

20

Shiba Inu Incubator: The incubator aims to shift the focus beyond popular art forms such as painting, photography, and digital rendering and discover ways to honor creativity and ingenuity.

21

Shiboshis: Shiboshis are 10,000 Shiba Inu-generated non-fungible tokens (NFTs) written on the Ethereum blockchain, with different traits that make each Shiboshi unique and collectible.
Why Buy SHIB?
To support Shiba Inu is to support the

mission

of the ShibArmy. Through inclusive cooperation and devotion to its mission, the community aims to attain financial independence outside of centralized control.
Beyond the community participation, the Shiba Inu project also offers mechanisms for token holders to stake their SHIB to earn additional crypto rewards, and to use it on Shiba Inu's decentralized finance infrastructure.
Who Are The Founders Of SHIBA INU?
The SHIBA INU WoofPaper has three reasons why their team created SHIB:
"We started from zero, with zero."
"The brilliant minds behind Shib had never collaborated before."
"We love Shiba Inu Dogs."
The anonymous creator of the Shiba Inu coin is known as "Ryoshi." However, very little is known of the mystery founder of the dog-themed cryptocurrency, much like the founder of Bitcoin, Satoshi Nakamoto.
In his blog RYOSHI RESEARCH, he characterizes himself as "just some guy of no consequence tapping at a keyboard." Ryoshi said that usually in projects there are different roles like a CEO, a "tech guy," and a roadmap, resulting in "someone plebs can bitch at." He stresses that with Shiba, no one person is accountable or responsible and underlines that he owns 0 SHIB to this day. For this reason, Ryoshi can be "pure and unbiased," getting satisfaction from Shiba "in other ways."
It has been speculated that Vitalik Buterin was behind the initial liquidity that helped set up Shiba Inu's liquidity on Uniswap. According to Ryoshi, he had "a fren" he met at Devcon in Osaka that sent him 10 ETH to set up the liquidity pair on Uniswap. Ryoshi also stated that Shiba Inu was an experiment in decentralized community building, and he thus declined all the influencer requests and pitches from different exchanges he received. His "job" is to defend the brand and give suggestions, although he does so very sparingly, as his last blog entry dates back to May 2021.
Difference Between Shiba Inu Coin and Dogecoin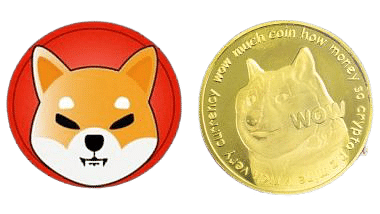 | | | |
| --- | --- | --- |
|   | Shiba Inu Coin | Dogecoin |
| Development | They are built on and powered by the Ethereum Network. | They have developed it using the same Bitcoin Technology. |
| Use-Cases | It is still working upon price more because of its hyped popularity than its utility. | It has already established itself as a medium of online payments to some extent. |
| Value | $0.00002228 | $0.1156 |
| Availability | 394 Million | 130 Billion |
Will Shiba Inu Take Over Dogecoin?
Unlike Dogecoin (DOGE), Shiba Inu lacks the support of Elon Musk, the founder of SpaceX and Tesla. Musk's Twitter is considered a place of mystery in the world of cryptocurrencies. The multi-billionaire's tweets hold immense traction in the crypto world to such an extent that a 5-20% drop in crypto prices has been witnessed. A great example of this would be the environmental issue surrounding Bitcoin. When Musk tweeted about it in May, BTC went down by 20%, however, with a single tweet in support of BTC, it immediately went up by 4%.
It is clear to everyone now that Elon Musk's opinion about crypto holds immense value and his support for Dogecoin is valuable. His quotes like 'Dogecoin is Money' sent the meme coin up by 20% in 2021!
Now, it's clear that the "Doge-coin killer," Shiba Inu, doesn't have the same support, however, crypto market analysts still believe that it can overtake Dogecoin in the coming years.
It is crucial to think about the tokenomics of crypto investments at all times. Compared to other crypto assets, Dogecoin's supply method is rather unique. Dogecoin has an infinite supply, which implies that, unlike Bitcoin, which has a limitation of 21 million coins, there is no cap to the number of Dogecoins that can be generated.
Shiba Inu does not follow Dogecoin in the matter of market capitalization as the token has a limited supply, with the total standing at 1 quadrillion tokens, which is also a pretty huge number. So, in conclusion, neither Dogecoin nor Shiba Inu has a limited supply that can be filled in a short period of time.
The founder of Ethereum, Vitalik Buterin owned about half of SHIB tokens' supply. However, he opted to burn 90% of them (an act that spiked SHIB's price for a limited period), which amounted to 410 trillion tokens, valued at around $6.7 billion.
This decrease in supply may kick-start a new bullish run for the coin. Another important factor to keep in mind is 
market capitalization
. Both Dogecoin and Shiba Inu have huge market capitalizations, which may limit the possibility for greater increases. It does, however, imply that they are both quite popular in the crypto world. With a market cap of 
$36,313,515,624.72
, Dogecoin is comfortably among the 
top 10 cryptocurrencies
 (ranked at #7) in terms of market capitalization. Shiba Inu, meanwhile, is in the 
top 50
 with a market capitalization of 
$2,762,340,296.49
, which is a great number for a relatively new token in the crypto world.
At this time, the market capitalizations of the two tokens are vastly different. Nonetheless, the SHIB community is fervent, and the possibility of another big price increase cannot be ruled out. Many investors have rushed to it in the hopes of discovering the next Doge. Dogecoin is already up a lot, and even if it does hit the $1 mark, it wouldn't be a huge rise in terms of percentage from where it is now.
Both Dogecoin and Shiba Inu have a lot of promise as well as a lot of risks attached to them. These are entirely speculative investments with no intrinsic worth. They do, however, have a large number of ardent admirers who have been able to influence their prices and it'll be interesting to see who wins in the race of becoming the king of meme coins in the crypto world.
ShibaSwap - The Reviver Of Shiba Inu's Price?
ShibaSwap is the decentralized exchange launched by the team behind Shiba Inu. In less than 24 hours of this launch, ShibaSwap had 1 billion dollars in its locked liquidity – Total Value Locked (TVL).
On ShibaSwap, there are three major tokens. The first one is the main one, i.e. Shiba Inu (SHIB). Leash Dogecoin Killer is the other one followed by Bone – all related to dog terms, obviously.
Shibaswap offers a 'Bury and Dig' feature which is staking your tokens and providing liquidity. Digging or dig is the term used on the platform for providing liquidity. Liquidity pools proportionately distribute rewards depending upon the number of tokens staked on ShibaSwap.
ShibaSwap, as claimed by SHIB holders, is the first of many significant upgrades that will influence the price of Shiba Inu and the tokens (Leash & Bone) associated with it. The $1 billion dollar transaction surge in 24 hours is maybe a good sign for its holders.
Expert Opinions Of Market Analysts On Shiba Inu's Price
According to experts, Dogecoin's popularity is based in part on Elon Musk's support, typically voiced on Twitter. Unfortunately, the Shiba Inu coin has no such champion in its corner, and considering it's billed as a "Dogecoin killer," it isn't likely to get the multi-billionaire's support anytime soon.
However, Shiba Inu coin has a limited supply, a standing total of one quadrillion tokens. Although this is a huge number that can easily accommodate an army of investors, it is still a finite number, which may help spark speculation in the future.
The key to Shiba Inu's future success lies in speculation and market capitalization, and Shiba has the potential of becoming the next Dogecoin. Shiba Inu is currently in the top 50 cryptocurrencies today, with a market capitalization of $2,762,340,296.49. This is a healthy number, especially when you take into account that Shiba Inu is a relatively new token in the world of cryptocurrency.
Investments, whether in the stock market or cryptocurrency, entail a certain amount of risk. There is no sure thing. However, Shiba Inu coin has the potential of becoming a top player in cryptocurrency market!
Shib Inu FAQs
Here are a few frequently asked questions relating to Shib Inu Coin that go beyond the question "what is Shiba Inu Coin." You will notice that some of the information has already been covered elsewhere in this article.
1. Does the Shiba Coin have a future?
It depends on whether it can secure widespread adoption. It's off to a good start, so let's see if it can sustain it and build from it.
2. Is Shiba Inu crypto a good investment?
There's no one-size-fits-all answer; it really depends on investors' individual circumstances. Cryptocurrencies are volatile investments, where you can either strike it rich or lose big. Before investing, pause and evaluate your risk threshold. Do your research, and never invest more money than you can afford to lose.
3. Will the SHIB Coin price rise?
Possibly. You must look at the big picture and be ready to wait several years for the coin to gain enough traction to hit a record high price. Forecasters predict that Shiba Inu will experience a long-term price increase. However, forecasters are known to make mistakes.
4. Could Shiba Inu actually reach $0.01?
Shiba Incu Coin prices can only go so high, limited by the large supply currently in circulation. Consequently, forecasters don't see the value hitting that magic number before the end of the 2030s.
5. Where and how can I buy the Shiba Inu Coin?
Use cryptocurrency exchanges such as Huobi, Binance, and Uniswap. Then, transfer your purchases to a software or hardware wallet to keep them secure.