#
Name
Price
Changes 24h
Market CAP
Volume
Supply
What Is Swipe (SXP)?
Swipe is a platform that looks to form a bridge between the fiat and cryptocurrency worlds with its three main existing products: the Swipe multi-asset mobile wallet, the Swipe cryptocurrency-funded debit card and the Swipe Token (SXP).
The Swipe wallet acts as the main access point to the Swipe ecosystem and can be used to store and manage a wide variety of assets — including both cryptocurrencies and fiat currencies. The wallet can also be used to manage Swipe's second product — the Swipe debit card. This debit allows users to spend their cryptocurrencies at Visa payment terminals and comes in a variety of flavors, each of which offer increasing perks and benefits.
This ecosystem is powered by the Swipe Token (SXP), which functions as the fuel for the Swipe Network, and is used for paying transaction fees. Holders of SXP tokens are eligible for exclusive discounts on the Swipe app and the token can be used for making fiat payments with the Swipe debit card.
How Does Swipe Work?
---
The Swipe network uses the Ethereum blockchain to hold crypto deposits on behalf of users and to grant them various benefits.
However, the platform also runs an off-chain API that allows for compatibility with traditional payments infrastructure, and thus enables features like payments to merchants. 
Swipe Wallet
Anyone wishing to utilize Swipe's features can do so through the Swipe wallet. 
The digital wallet application allows users to deposit cash and purchase any of the 30+ cryptocurrencies offered by Swipe directly. Further, the wallet can be used to custody crypto assets as well as to convert one cryptocurrency to another.
Central to Swipe's ecosystem is the ability for users to use the Swipe card to pay merchants. In this case, smart contracts on the network will automatically convert any cryptocurrency stored in the wallet to the needed cash payment accepted by the merchants at the point of purchase.
Users can manage their card through the wallet application and stake the required amount of SXP to upgrade their card at any time. 
Who Are The Founders Of Swipe?
Swipe was founded by Joselito Lizarondo, an early Bitcoin investor and individual with a wealth of experience in startup businesses. Lizarondo currently serves as CEO of the platform.
In July 2020, it was announced that Swipe was acquired by Binance — one of the world's leading digital asset exchanges — for an undisclosed sum.
Swipe's Products And Technical Infrastructure
Existing products
Swipe Wallet
The Swipe Wallet is the main hub to access the Swipe ecosystem of products. The wallet supports depositing, storing, and withdrawing fiat currencies, stablecoins, and other cryptocurrencies.

The Swipe Wallet also offers live market data for supported cryptocurrencies. Users will be able to access the price and volume data of the cryptocurrencies they hold with ease.

The Swipe Wallet enables users to buy and sell cryptocurrencies with fiat currencies, stablecoins, or other supported cryptocurrencies. Users may purchase supported cryptocurrencies with linked bank accounts and credit or debit cards.
Swipe Visa debit card
The Swipe Visa debit card is offered with two options: Swipe Saffron and Swipe Slate. The Swipe Saffron card does not require any SXP stake and comes with a lower spending limit, but includes a 1% cash back in Bitcoin (BTC). The Swipe Slate card comes with higher limits and 4% cash back in Bitcoin.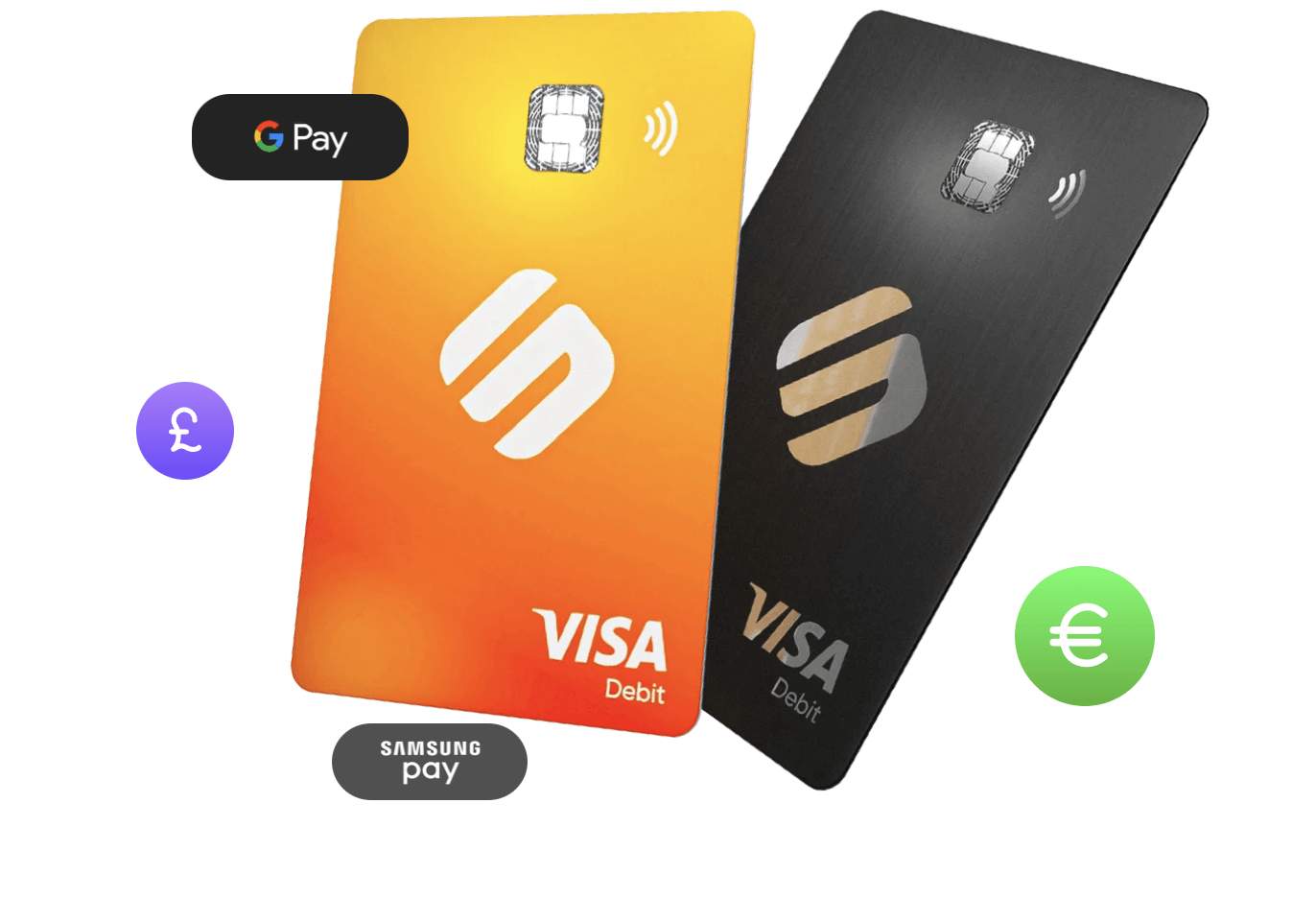 The Swipe Visa card can be managed directly within the mobile application. Once the user has ordered the card, he may activate the card within the wallet and track its status. Users are able to view their card numbers and history by either tapping on the card or on relevant transactions. The card includes security options including freezing or unfreezing the card, upgrading the card, viewing PIN numbers for ATM access, and viewing card numbers through in-app authentication.
Users may also select a "funding source" that dictates to the application which cryptocurrency will be used from the Swipe Wallet to convert to fiat currencies used on the card. The card then will be linked to its funding source balance from the Swipe Wallet, and enable the conversions of the cryptocurrency to fiat currency for the merchant at point-of-sale.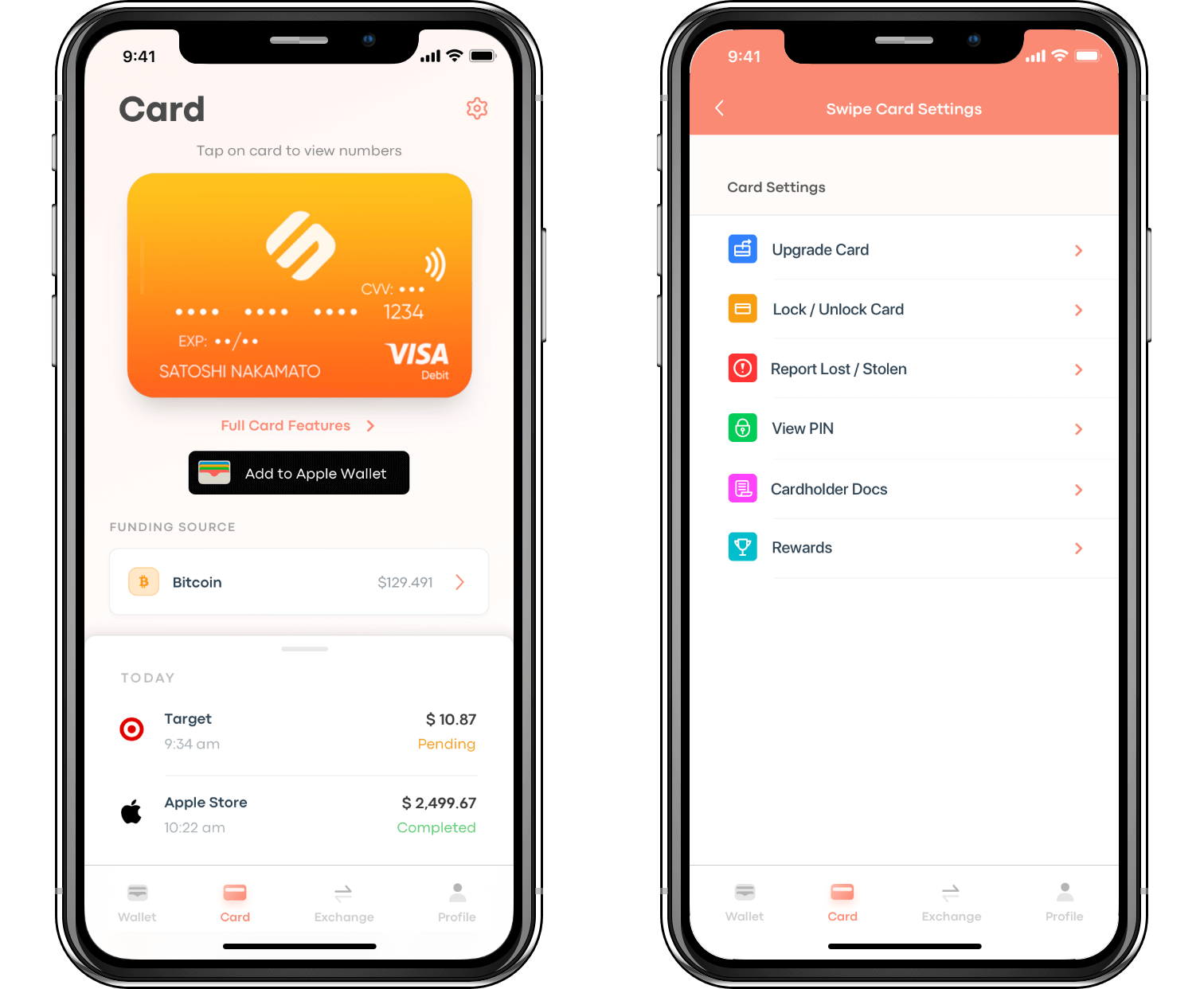 Technical infrastructure
The Swipe Network operates off-chain, which utilizes the Swipe API, and on-chain, which utilizes the Ethereum blockchain. A user can activate access to the Swipe Network with a 1 SXP deposit. All transaction fees and wallet fees are denominated in SXP. The following chart demonstrates the smart contract interactions: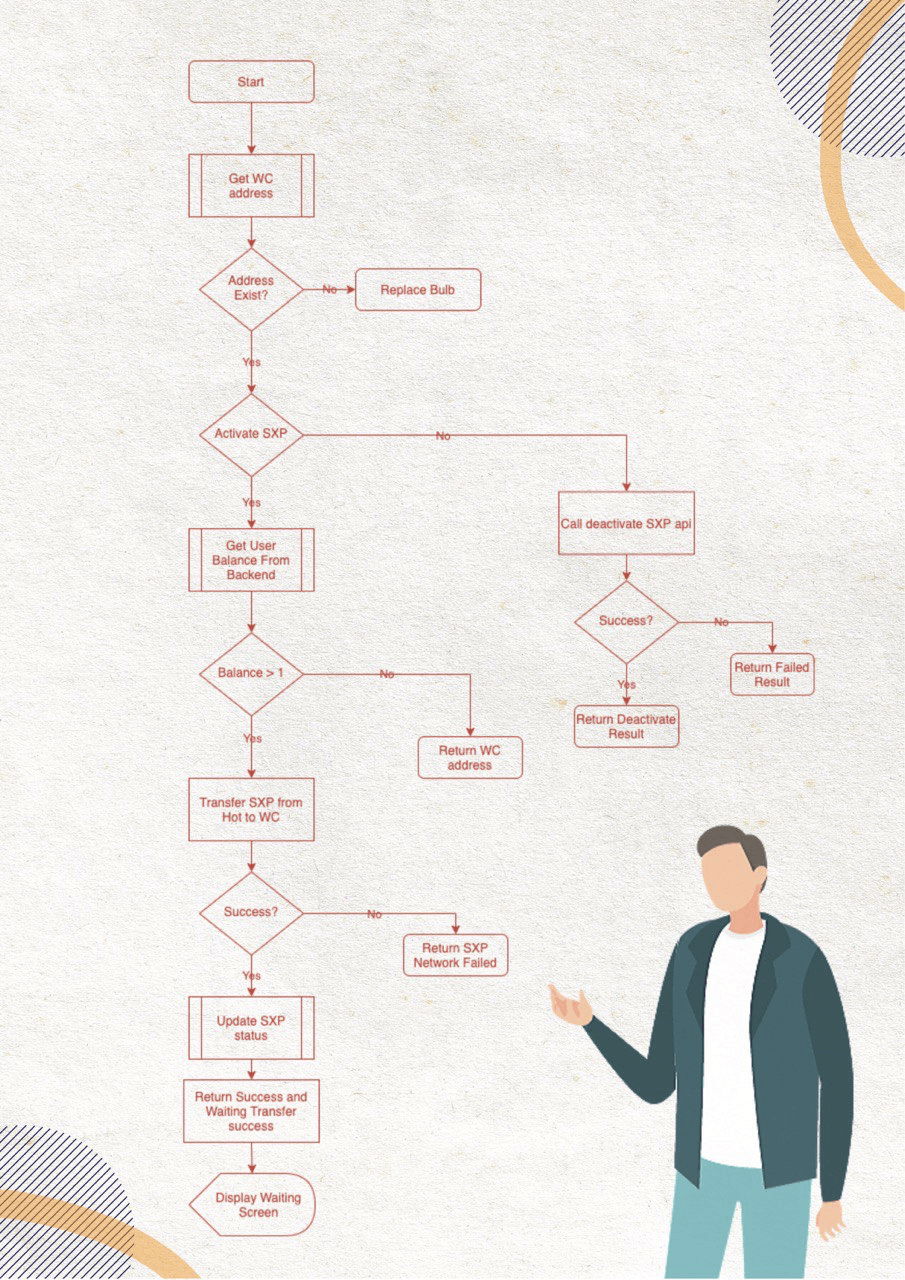 When transactions occur on the Swipe Network, 80% of the fees, which are denominated in SXP, will be automatically burned by smart contract. The rest of the fees will be retained by the smart contract. In the future, Swipe plans to distribute the fees collected via a Proof-of-Stake mechanism to network validators.
All transactions are updated directly onchain, and then reflected within the Swipe API to notify users of the Swipe Wallet.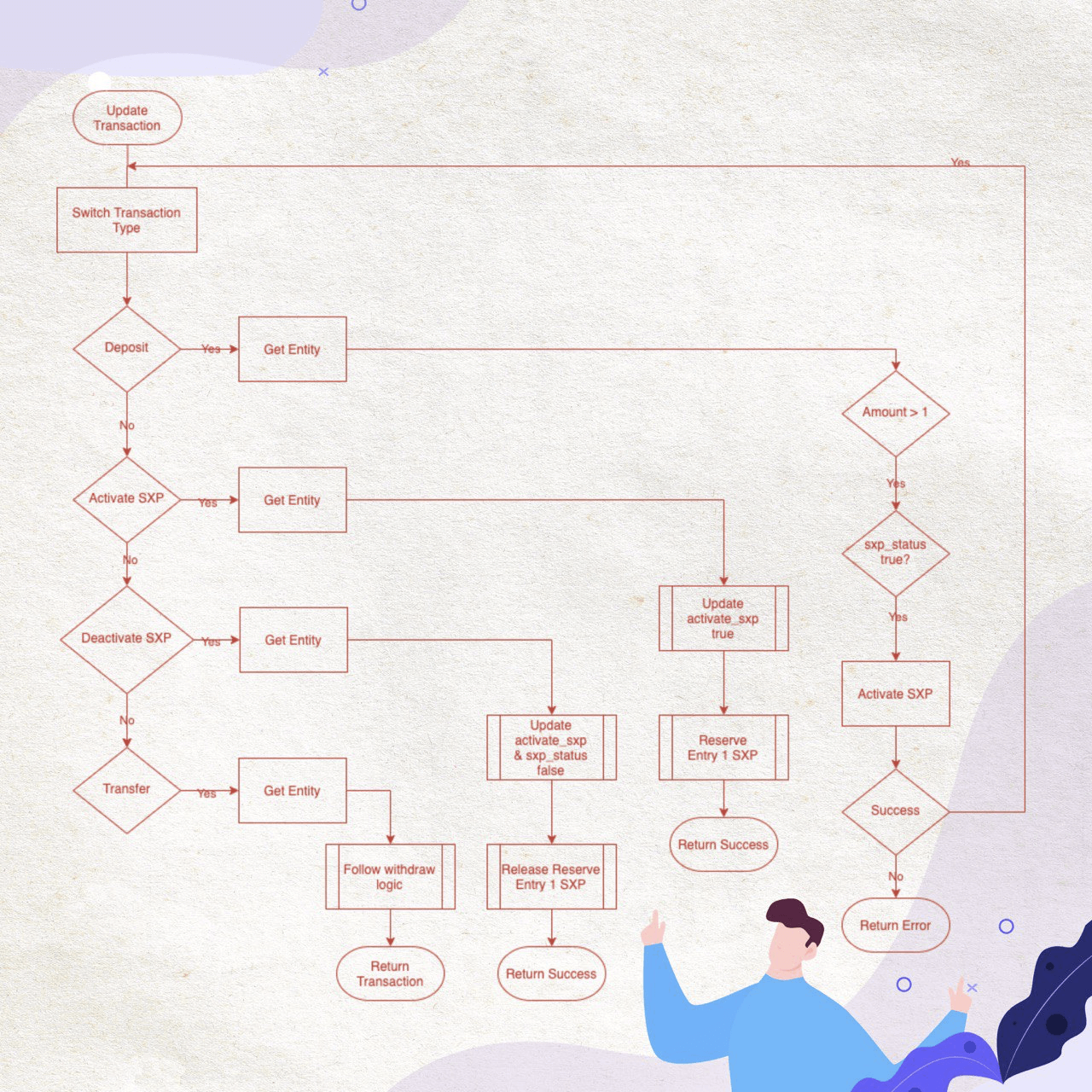 Staking SXP
Users can stake SXP to access a variety of features within the Swipe ecosystem. By owning and staking SXP, users gain the ability to vote on network rules, such as reward distributions and transaction fees, among other possible changes.
Users can participate in the network's governance with a minimum deposit of 1,000 SXP, and those who stake over 300,000 SXP can propose changes to the Swipe network.
Those staking SXP also stand to gain a share of 20,000 SXP that are  released each day, an amount that can fluctuate based on user votes.
Why Does SXP Have Value?
The SXP cryptocurrency is central to maintaining and operating the Swipe network and can be used to pay for various services in the Swipe ecosystem.  
First and foremost, SXP is used to pay for transaction fees on the SXP Network. Of note, 80% of this fee is "burned," or eliminated from circulation, by the smart contracts on the network.
According to the software's rules, the supply of SXP tokens is limited, meaning that there will only ever be a maximum of 300 million tokens. 
That said, the protocol issues over 2 million SXP monthly, with some of these tokens being distributed as staking rewards to users helping operate the network. The remaining supply is issued to the Swipe company and is used to reimburse Swipe's team and founders.
Due to scheduled reductions in the SXP token supply, the total amount of SXP available is expected to decrease over time until there are only 100 million units left.
What Makes Swipe Unique?
Swipe is designed to allow users to take full control over both their crypto and fiat finances through its easy to use mobile application and associated range of crypto debit cards.
One of its key distinguishing features is its usability. Swipe is designed to be accessible to users of all experience levels, making it a simple task to store and manage cryptocurrencies on the Swipe wallet app, or spend cryptocurrencies using the Swipe Visa debit card.
As previously touched on, the Swipe (SXP) token sits at the core of the Swipe ecosystem. Users will need to hold a fixed minimum amount of SXP to be eligible to purchase a Swipe Sky, Steel or Slate debit card — and hence benefit from the perks these offer, such as up to 8% cash back on purchases, improved spending limits and zero foreign transaction fees.
By making it extremely simple to convert cryptocurrencies to fiat, which can then be spent using the Swipe debit card, Swipe targets the increasing number of cryptocurrency holders looking to use their assets for everyday purchases. It also generates revenue from transaction and exchange fees, which is used to support the expansion of the ecosystem and its rollout to new regions.
Besides unlocking a variety of perks for holders, SXP can also be used for creating and voting on governance proposals, allowing holders to help shape the development of the Swipe ecosystem.
What Problems Does Swipe (SXP) Solve?
Swipe leverages a decentralized ecosystem and wallet dapp to form a bridge between the fiat and cryptocurrency worlds. Currently, the crypto sector and the traditional financial sector are still separated. Swipe connects and is partnered with major payment networks to help businesses streamline their entrance into the market. Also, the network leverages powerful APIs to create a tailored product. 
High Fees
Another major issue that Swipe helps to reduce is high fees. In the traditional market, there is a fee every time you use your debit card. These fees can add up and eat away at your holdings. Notably, Swipe (SXP) doesn't charge fees for its debit card services.
Benefits Of Swipe (SXP)
There are a number of benefits that make Swipe (SXP) an option to consider. For one, it enables businesses to create card programs for users to spend cryptocurrencies globally. These businesses retain full control over these networks via an intuitive interface. Businesses can create a logic via approve and decline scenarios.
On-boarding
Swipe simplifies the onboarding process for new users. Entering the decentralized economy can be confusing for those unfamiliar with cryptocurrencies. Swipe makes it easy for new users to convert their fiat over to cryptocurrencies via its fiat on-ramp. Best of all, you can purchase cryptocurrency directly from your Swipe wallet. 
Selection
Swipe users gain access to an excellent selection of coins. There are currently +30 cryptocurrencies available to users. These include top projects like Bitcoin, Ethereum, and more. Notably, the platform also supports +135 fiat currencies. In this way, Swipe (SXP) can service the needs of the international community.
Swipe (SXP) Perks
There are some perks that Swipe users gain when they use their cards. You can earn up to 8% cashback in Bitcoin when you make purchases. Thanks to some clever strategic partnerships, you also receive a free Netflix and Spotify subscription when you join the network. 
Tokenized Cards
One of the main draws of Swipe is its touchless characteristics. Users are eager to avoid any unnecessary risks during the pandemic. As such, COVID has helped to drive interest in digital currencies as of late. Swipes mobile Dapp enables access to Apple Pay, Google Pay, and Samsung Pay. Users can connect all their payment methods and do away with the annoying keypads and cards.
Regulatory Approval
Another huge advantage that Swipe (SXP) brings businesses is the ability to implement decentralized payment methods without worrying about regulatory compliance. Swipe handles all of the KYC and identity verification requirements per region. In the past, regulatory compliance concerns have always been a roadblock to cryptocurrency adoption. Swipe helps to eliminate this issue. 
Global
Swipe was built to support a global economy. The protocol is accepted in +30 countries. When you combine this with the multi-lingual interface and huge selection of fiat currencies accepted, it's easy to see how Swipe could help to streamline international commerce for users in new and exciting ways. 
Pros & Cons Of Swipe Coin
Pros
• Easy Conversion:
Provides immediate conversion of fiat currency and any other crypto for easy trade.
• Better Control:
It provides better control over the staking policies.
• Easy Exchange:
The Swipe wallet promotes the easy exchange of different currencies and crypto.
Cons
Too Popular:
Reversal of its market value is highly possible due to overselling.
Swipe (SXP) Future Features
The developers behind Swipe intend to release a plethora of new features in the coming weeks. These new products will help users obtain more flexibility and usability while also improving their ROIs. Here are the top features to look out for in the future.
Swipe (SXP) – Wallet Direct Exchange
Swipe promises to introduce an in-wallet exchange in the coming months. Users will be able to trade their popular cryptos for other supported assets in a non-custodial manner. Non-custodial exchange methods are more secure because they eliminate the need to store large amounts of user's crypto online. Your crypto is traded directly between the other party on this form of exchange. 
Savings Account
Crypto savings accounts are one of the hottest DeFi features at this time. Users earn interest for holding their cryptocurrency just like how your bank pays you interest on your holdings. Savings accounts are popular among enterprise investors who require insured accounts. The main difference between crypto savings and traditional savings accounts is that you earn way higher interest rates. 
Swipe (SXP) – Credit Cards
The developers have also stated that they will provide credit card services in the coming months. This maneuver would be one of the first times a decentralized card system offered credit to users. The details on this update have been scarce but the developers have stated the interest rates on these cards would be less than traditional cards.
Merchant Payment Processing
Swipe (SXP) seeks to help merchants join the market in multiple ways. Developers are currently working on an easy-to-integrate payment processing system. The protocol would allow any merchant to start accepting cryptocurrencies. According to company documentation, the system will accept an excellent selection of cryptos and fiat currencies. 
History Of Swipe (SXP)
Swipe (SXP) is a for-profit company headquartered in the Philippines. The firm has operations in the United Kingdom and Estonia as well. Joselito Lizarondo is listed as the founder of Swipe. Notably, Lizarondo raised eyebrows when he burnt all of his founder tokens unexpectedly. 
This decision helped to bolster demand for the token, as his holdings were worth over $200 million. Notably, his decision destroyed over 17% of the coin's total supply. Notably, Binance's CEO took to Twitter to commend him on the decision. 
In July 2020, the world's top crypto exchange, Binance acquired Swipe. Interestingly, the acquisition was for an undisclosed amount. The maneuver helped to build confidence in the protocol as Binance quickly added SXP to its markets which expanded liquidity for traders. 
How To Buy Swipe (SXP)
Swipe (SXP) is currently available for purchase on the following exchanges.
Bitstamp – Founded in 2011, Bitstamp is one of the oldest & most trusted exchanges in the world. They currently accept Canada, UK & USA residents excluding the states of Alabama, Hawaii, Idaho, Louisiana, Nevada, & New Jersey.
Binance – Best for Australia, Canada, Singapore, UK and most of the world. USA residents are prohibited from buying Swipe (SXP).
KuCoin – This exchange currently offers cryptocurrency trading of over 300 other popular tokens.  It is often the first to offer buying opportunities for new tokens.  This exchange currently accepts International & United States residents.
WazirX – This exchange is part of the Binance Group, which ensures a high standard of quality.  It is the best exchange for residents of India.
How To Store Swipe (SXP)
We recommend using ZenGo, a multi-chain crypto wallet for everyone. Store 70+ digital assets including Swipe (SXP) with unbelievable simplicity and bulletproof security. ZenGo is known for its legendary, 24/7 in-app customer support and its keyless MPC technology that gives you full control over your crypto, but is always recoverable.
ZenGo is available worldwide including Australia, Canada, Europe, UK, & USA (Purchases are restricted in Hawaii, New York, Rhode Island, US Virgin Islands).
If you seek to make a major investment in ICP or if you are planning on HODLing this crypto for long periods of time, a hardware wallet is the best option. Hardware wallets keep your crypto stored offline in "cold storage." This strategy makes it impossible for online threats to access your holdings. The Ledger Nano S or the more advanced Ledger Nano X both support Swipe (SXP) .
Price Prediction: Expert's Opinion
The Swipe forecast by Wallet Investor indicates that the token is an awesome long-term investment choice. Based on the analysis, the price may reach a maximum level of $6.151 by 2027. If traders invest in the coin today for 5 years, they may earn a profit of around +396.05%.Wallet Investor
Based on the analysis by Price Prediction, the Swipe token will not be a profitable asset for the short term. According to the past price movements and data, the maximum price level for 2022 can be around $2.18 with a minimum price and the average price of $1.83 and $1.89.Price Prediction
The SXP forecast by Digital Coin Price is based on historical data. As per their forecasts, the price will increase in the future and for the year 2025, the average price might be around $2.49.Digital Coin Price
The future prices of the token is predicted to be bullish. By the end of 2023, the minimum price can be $6.32315, while the price can reach a maximum value of $8.55485. The average trading price for the year might be $7.439.GOV Capital
According to TechNewsLeader, the crypto market is quite growing and the prices of SXP tokens will also grow in the future. It can reach a maximum price level of $12.68 by the year 2027. While the average price is expected to be $11.00.TechNewsLeader