#
Name
Price
Changes 24h
Market CAP
Volume
Supply
What Is PancakeSwap (CAKE)?
PancakeSwap is an automated market maker (AMM) — a decentralized finance (DeFi) application that allows users to exchange tokens, providing liquidity via farming and earning fees in return.
It launched in September 2020 and is a decentralized exchange for swapping BEP20 tokens on Binance Smart Chain. PancakeSwap uses an automated market maker model where users trade against a liquidity pool. These pools are filled by users who deposit their funds into the pool and receive liquidity provider (LP) tokens in return.
Cloning or copying open source code from a popular decentralized application (dApp) is not uncommon. Particularly in DeFi, many new projects are based on existing protocols, with tweaks made to the original code. Simply make a few adjustments to a popular open-source code, create a new token, name it after your favorite snack, and presto – you've got yourself a freshly baked DeFi clone! 
Regardless of whether you think cloning is a good thing or a bad thing, it happens a lot in crypto. For example, SushiSwap is a clone of Uniswap. Therefore, it should come as no surprise that PancakeSwap appears to work in a very similar way to SushiSwap, with a familiar layout and user interface.
PancakeSwap is a decentralized exchange developed to facilitate the swapping of BEP-20 tokens.
BEP-20 is a Binance token standard that needs to be followed on the Binance Smart Chain. This is an abbreviation that is short for Binance Smart Chain Evolution Proposal. That said, if any other token standard wants to be transferable on PancakeSwap, it needs to be wrapped in the BEP-20 standard for the swap.
The main point of the appeal behind PancakeSwap is that it is a fully decentralized exchange where the orders and trades are automatically executed through smart contracts.
The platform was launched in September of 2020. While we do not really know who the development team behind the platform is, it has been regularly audited by blockchain security companies, such as Slowmist and Certik. 
So, if you are curious as to whether PancakeSwap is safe, be concerned no more; it has frequent security audits, so you can trade PancakeSwap's CAKE and other assets with peace of mind.
Additionally, PancakeSwap uses an automated market maker model (AMM), which means that while you can trade digital assets on the platform, there is not an order book where you are directly matched with someone else. All trading occurs against a liquidity pool.
How Does PancakeSwap Work?
The identity of PancakeSwap as a decentralized exchange is quite clear right now. One of the first aspects of the working of the DEX is the underlying blockchain network, i.e., Binance Smart Chain. Interestingly, Binance Smart Chain offers a faster and cost-effective alternative for Ethereum. 
The PancakeSwap exchange follows the AMM system just like many other DeFi protocols such as Uniswap. It helps users in swapping crypto assets by leveraging user-generated liquidity pools. You don't have to depend on any order book, where you have to wait for matching orders. On the contrary, you would trade with the liquidity pool on the DEX. 
According to the AMM or Automated Market Maker system, the participants have to contribute to the liquidity pools with their assets. Users have to deposit their funds in the liquidity pools and receive liquidity provider tokens or LP tokens in return. Then, liquidity providers can use the LP tokens for reclaiming their share in the liquidity pool alongside a share of trading fees in the pool. Therefore, you can just trade BEP-20 tokens alongside adding liquidity and earning rewards with the help of the PancakeSwap app.
Another important highlight in the working of PancakeSwap refers to the development of liquidity pools. How will the decentralized exchange enable the creation of liquidity pools? Where will users get the tokens for putting in these liquidity pools? Therefore, the PancakeSwap exchange also features an exclusive range of opportunities for DeFi farming. For example, the liquidity grab has been in favor of the exchange, with more than $1 billion of total value of assets migrated to PancakeSwap since its launch. Let us dive into details about farming in the next section. 
How To Start Using Pancakeswap?
Users will need to connect to the Binance Smart Chain in order to access Pancakeswap. It is possible to do so through Metamask or Binance Chain Wallet. Users will have to customize their Metamask with the following details after choosing custom RPC from the network's option.
Binance operates two different chains:
Binance Chain – BEP 2
Binance Smart Chain (BSC) – BEP 20
Binance DEX is the primary decentralized app operating on Binance Chain. Most other projects are building on the Binance Smart Chain. The easiest way to convert any assets to its BEP 20 representation is through the Binance exchange. 
For example, after depositing Bitcoin to Binance Exchange, users can choose to withdraw it in the forms of ERC 20 (ETH), BEP 2 (Binance Chain), BEP 20 (BSC), and BTC's native chain. Choose BEP 20 if you would like to have the asset interact with PancakeSwap. 
An alternative is through Binance Bridge, where users can swap the assets cross-chain from any L1 chain to BSC. 
Users will need to have BNB to pay for any transaction fee on Binance Smart Chain, similar to how users will need ETH to pay for transaction fees on Ethereum.
The Pancake Token
In September 2020, the Pancake token (CAKE) was launched on Binance Smart Chain (BSC). CAKE is a BSC-native BEP-20 token. The CAKE token has performed extremely well in 2021, showing an incredible price rally throughout February. The primary function of CAKE is to incentivize liquidity provision to the PancakeSwap platform.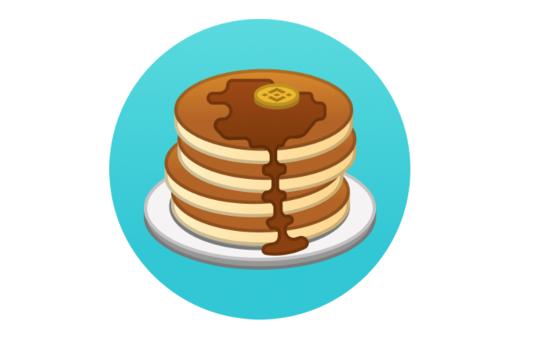 At the time of writing, the Pancake token (CAKE) has a market cap of $335,680,356, selling at $3.03 per Pancake token, with a circulating supply of 111,566,950 according to CoinGecko. Also, CAKE has no max supply, which means it is a deflationary token, with tokens burned regularly to reduce the supply.
Yield Farming With PancakeSwap
As an early adopter of smart contracts, the network effect of the Ethereum blockchain gave rise to hundreds of decentralized applications (dApps) and yield farming protocols. However, many of these protocols are unaudited, and some outright scams.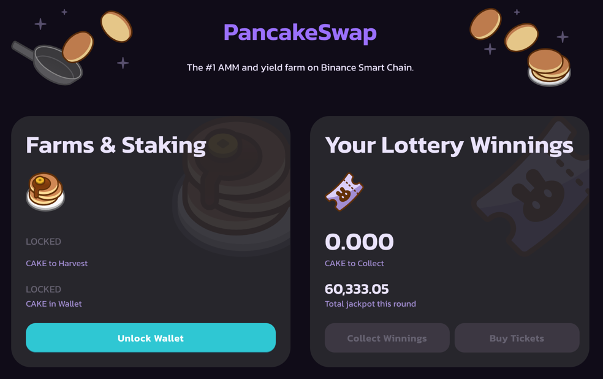 Since then, advancements in the blockchain industry and DeFi have facilitated improved security measures by allowing the coming together of centralized finance (CeFi), and decentralized finance (DeFi). A great example of this is Binance Smart Chain. Binance Smart Chain is an ecosystem of decentralized applications that harness the power and security of Binance while offering many of the services that appeal to DeFi users, such as yield farming. 
Yield farming allows users to stake funds in return for staking rewards. Rewards can be compounded and used across multiple protocols, allowing users to grow yield by chasing the highest interest rates across various parts of the DeFi ecosystem.
Providing Liquidity To PancakeSwap
PancakeSwap liquidity provider (LP) tokens are suitably named 'FLIP' tokens. FLIP tokens come in different varieties depending upon the token pair provided to a pool. PancakeSwap farmers can lock up their LP tokens and earn further rewards in the process. 
After depositing funds into a PancakeSwap liquidity pool, earning LP rewards, and using them to farm the Pancake token (CAKE), users could stake their CAKE tokens by locking them up to receive SYRUP tokes. However, SYRUP was discontinued and rendered useless after a smart contract issue. Instead, users can now stake CAKE, to earn more CAKE!
5 Reasons To Start Investing In PancakeSwap (Not Financial Advice)
There are multiple reasons why investing in PancakeSwap can be a solid opportunity for you. We've highlighted the top 5 reasons here, but remember, this is not financial advice.
1. Constant Revenue Stream From Trading Fee
When it comes to the fees on PancakeSwap, here is what you need to know:
When you make a token swap or trade on the exchange, you need to pay a 0.25% trading fee, which is divided into three pieces.
First, there's 0.17% that gets returned to the liquidity pools in the form of a fee reward for the liquidity providers (LPs).
Then there's a 0.03% fee sent to the PancakeSwap Treasury.
Last but not least is a 0.05% fee which gets sent to facilitate CAKE buyback and burn.
So if you are a liquidity provider and curious about how PancakeSwap makes money, now you know. The more money they make, the greater the effect on the Cake governance token price.
2. Higher Yield
Through the usage of PancakeSwap, you can get a higher yield when compared to other offerings. In terms of the yield farm APR, here is how it is calculated:
First, the LP rewards APR is earned through providing liquidity.
Second, the farm base rewards APR are earned through staking LP Tokens in the farm.
The farm base APR is calculated in accordance with the farm multiplier and the total amount of liquidity of the farm, which is the number of CAKE tokens distributed on it. Farmers also receive LP rewards for providing liquidity. One more thing you need to be cautious about whenever you do yield farming on any DeFi pool is an impermanent loss. Therefore, it is recommended for anyone who wants to start yield farming to learn more about what exactly impermanent is before investing in DeFi
As of the day we write this article in Jan 2022, you can earn up to 440% APR, but please note that the yield % you are seeing right now is not promising due to the coin price volatility and the number of the multipliers.
The best way to mitigate the risk is to understand what you are investing in. Please be cautious and follow the latest news and updates to make sure that you are not missing out when an unexpected occurrence comes up.
---
3. A Higher Level Of Security When Compared To Other DeFi Yield Farming Platforms
If you are curious to learn how safe PancakeSwap is, note that it has a higher level of security when compared to other DeFi protocols. It is audited by two prominent blockchain security firms:
CertiK – uses rigorous Formal Verification technology to provide hacker-resistant smart contract and blockchain audits through penetration testing, among other methods.
Slowmist – provides cybersecurity audits and protection for leading asset exchanges, cryptocurrency wallets, public chains, and smart contracts. 
Depositing funds into smart contracts always has some risk for bugs, even for audited projects; however, knowing that multiple security firms are involved in auditing PancakeSwap gives it a higher security rating than others.
---
4. Staking Through Auto-Compound
Through PancakeSwap's auto-compounding feature, rather than users having to manually re-stake their CAKE tokens to get the best APY, this is a process that is done automatically. This is how to stake in PancakeSwap. 
---
5. PancakeSwap Is Backed By Binance
PancakeSwap is a decentralized exchange built on top of the Binance Smart Chain, a quick and inexpensive alternative to Ethereum. The BSC is run by Binance, the owner of the world's largest cryptocurrency exchange. There is a rumour that Binance even developed Pancakeswap but nobody can confirm whether that is true or not.
Bonus: Lottery and NFTs Available on PancakeSwap
PancakeSwap's lottery gives users a chance to win prizes in the form of CAKE tokens. The lottery ticket prices are set at each lottery round and can vary with sudden price fluctuations. You can even buy lottery tickets in bulk to increase your odds of winning and get a bulk discount for doing so.
By default, each lottery session takes 6 hours, and one ticket can cost 10 CAKE tokens, which will give you a random four-digit combination of numbers between 1 and 14. To win the jackpot, which is 50% of the entire lottery pool, the numbers in the ticket you have to match all four numbers in the same order as the winning ticket.
Now that you know why you should start investing in PancakeSwap, we will teach you how to use PancakeSwap Step by Step. Here is our Beginner's guide on how to use PancakeSwap.
---
Advantages Of PancakeSwap
Earn Tokens From Pancake Swap
PancakeSwap has its own native BEP-20 token, CAKE, which can be staked––or spread––across Syrup Pools. Syrup pools provide tokens from other BSC projects such as Injective Labs (INJ) and CertiK (CTK), to name a couple.
No Know Your Customer (KYC) Policy
Unlike many centralized exchanges, anybody can trade from the hundreds of digital assets with over $100,000,000 in liquidity. Did I mention it's super simple to use? There will be more information below.
Low Fee's & Quick Transactions
As previously mentioned, PancakeSwap runs on BSC, using BEP-20 tokens. BSC has much lower fees than Ethereum, with fees ranging anywhere from $0.04- $0.20, and transactions taking about five seconds on BSC.
PancakeSwap Is Secured And Audited 
PancakeSwap has gone above and beyond and received an audit from three separate security protocols:  Slowmist, Peckshield, and CertiK. PancakeSwap also has a bug bounty‍ program to help protect user funds. On top of this, CertiK and PancakeSwap have integrated all the following resources:
–Security Oracle
–CertiK Shield
–DeepSEA
–The CertiK Virtual Machine
More information on CertiK's service can be found on their website.
Tokenomics
It is essential to note that CAKE has an unlimited total supply, and at the time of writing, is still a positive emissions rate. At this point, CAKE is still an inflationary token, but the team has several mechanisms to influence token supply. At this time, there are over 370,000 new CAKE tokens added to the supply everyday. 
The current supply of the CAKE token can be tracked on their website. There is a current supply of over 237 Million CAKE. There have been more burned tokens to date than in total supply: 266 Million. There are weekly token burns to help offset the daily emission. 
Some strategies used by the PancakeSwap team to control token supply are regular token burns built into the lottery system and a new 0.05% burn made of every trade made from the recent PancakeSwap V2 update. 
Lottery
One of the most striking highlights in PancakeSwap v2 would be the facility of lottery features. You can participate in the lottery and try your luck for some promising rewards. Take note of the fact that the lottery sessions could last around 6 hours, and you can participate with tickets. 
One ticket would cost 10 CAKE tokens, and it would include a random combination of four numbers between 1 and 14. The winning prize or the jackpot in the lottery is 50% of the whole lottery pool. The numbers of the ticket should match with the four numbers of the winning ticket in exactly the same order. You can also win rewards if two or more numbers of your lottery ticket are in the same position as the winning ticket. Quite an interesting approach to your crypto experience on the PancakeSwap exchange, isn't it?
NFTs
The lottery on PancakeSwap is probably a surprising feature for many who are seeking a decentralized exchange. Interestingly, the DEX has many other surprises in store for everyone with the facility for winning special NFTs. You can also leverage the PancakeSwap token for winning adorable NFTs on the Binance Smart Chain. NFT winners could trade them for CAKE tokens or store them as a collectible. All you need to do is register for a chance to win the NFTs on the PancakeSwap app. The best thing about the NFT contest is the random selection of winners. Stay updated with the NFT page on the exchange for discovering the latest opportunities. 
Accessing PancakeSwap
To access PancakeSwap, you must use one of the crypto wallets below. For this guide, we will show how to create a custom network in a Metamask wallet and connect it to BSC.
If you are unfamiliar with navigating Metamask, follow this tutorial about setting up a Binance Smart Chain wallet on MetaMask. Remember to keep your account safe and never share your seed phrase.
Once completed, you will be able to access PancakeSwap and begin swapping, staking, and providing liquidity.
Once liquidity is provided, simply navigate to the farm tab, select your respective pool, approve the FLIP tokens, and begin farming.
To stake CAKE, navigate to the SYRUP POOL tab and approve the contract, and then stake CAKE to the respective pool.
What's Been Happening?
The team behind PancakeSwap has been up to quite a bit since they began in late 2020. The most significant updates consist of the Initial Farm Offering's, Lending & Borrowing, Margin Trading, the NFT marketplace and profile, plus Governance. There is also a lottery system decentralized predictor. 
The team recently completed the version two update for their lottery and the entire DEX. Their lottery system has integrated the Chainlink VRF to have a provably fair system. The new NFTs from the team have caused an extremely positive reaction from BSC community, satisfying an aching need for NFTs.
The governance process has been busy as of late. The Pancake Community has been looking for many ways to improve by adding more assets and farms, adjusting yields, and dictating burns.
Overall Thoughts
PancakeSwap is the most used AMM and farming projection on BSC. It boasts a TVL of over $10 Billion and a daily volume of nearly a quarter-billion dollars. The DEX currently has over one million Twitter followers. It is the largest DEX on BSC and the second in all of DeFi. 
PancakeSwap will continue to provide high volume and lots of liquidity to the BSC, especially as the world of DEFI expands. DeFi on BSC is a massive alternative as it allows users to participate DeFi while not worrying about exorbitant fees, which can be seen on Ethereum. 
Overall, the DeFi space is rapidly expanding both on Ethereum and BSC, and PancakeSwap has built itself a name in the room where it continues to innovate. The team has plans to develop itself further and bring more innovation to both DeFi and BSC making it a project worth paying attention to.