#
Name
Price
Changes 24h
Market CAP
Volume
Supply
What Is Hedera Hashgraph?
Hedera Hashgraph (HBAR) is a project that aims to provide solutions for the potential obstacles in the blockchain space. The main obstacles that the team are focusing on are performance, security, governance, stability and regulatory compliance.
The Hedera system is fully scalable with the ability to potentially process over 10,000 transactions per second.
Hedera Hashgraph is on a network with asynchronous Byzantine Fault Tolerant (ABFT) security that is resistant to DDoS and Sybil attacks.
HBAR is the native cryptocurrency of the Hedera network. HBars are used to power DApps, build peer-to-peer payment models, and protect the network from attacks.
HBAR claims to utilise innovative technology to improve the crypto space. With a strong focus on security, fairness and speed, HBAR is moving in a favourable direction working on these important issues.
Hedera makes notable design trade-offs differentiating it from other platforms. For example, the network supports high transaction speeds for its HBAR cryptocurrency, but allows only approved nodes to participate in determining transaction history.
By restricting the number of nodes involved in key functions like timestamping and transaction ordering, Hedera Hashgraph is able to quickly achieve finality, reducing the likelihood changes to the state of transactions might later be made.
The Hedera team argues this gives businesses a needed guarantee, as they can be confident when making decisions based on this data.
As of 2020, there appears to be traction for the idea, as the model has succeeded in attracting dozens of big companies such as LG, IBM and Boeing to act as nodes within the network. 
Who Are The Founders Of Hedera Hashgraph?
Hedera Hashgraph has two founders: Dr. Leemon Baird and Mance Harmon.
Dr. Leemon Baird is credited as the investor of the hashgraph distributed consensus algorithm and currently works as Hedera's chief scientist.
Prior to founding Hedera Hashgraph, Baird accumulated more than a decade of experience in various computer science and security roles and previously worked as a senior research scientist at the Academy Center by Cyberspace Research. He also holds the position of co-founder and CTO at Swirlds Inc., a platform for building DApps.
On the other hand, Mance Harmon is Hedera's CEO and an experienced technology executive and seasoned entrepreneur. Harmon has around two decades of experience holding executive roles at prominent firms — many of which are in the IT security industry. Like Dr. Leemon Baird, Mance Harmon also holds a second position at Swirlds Inc., as its co-founder and CEO.
In addition to the founders, the Hedera leadership team also comprises more than a dozen individuals, many of which have had distinguished careers.
How Does Hedera Hashgraph Work?
---
Hedera Hashgraph's most unique feature is its data structure for grouping transactions called a hashgraph, which claims to process more transactions more cheaply than existing blockchains. 
The Hashgraph is a patented algorithm where all nodes are constantly communicating their information with each other, and was originally designed for private use. 
The Hedera Hashgraph is the first iteration of the algorithm that is used in a public network. 
Hashgraph Consensus Service 
To ensure all the computers in its distributed network agree on its transaction history, Hedera Hashgraph uses the Hashgraph consensus mechanism, powered by two types of nodes. 
Consensus nodes determine transaction ordering and history, while mirror nodes relay this information to other stakeholders throughout the network. 
By using a limited number of nodes to determine its history, the Hedera model ensures that the transactions won't later be undone. This differs from how most traditional blockchains achieve consensus, in which the state of the blockchain is determined by users who propose blocks to be added to the chain in a market competition open to anyone. 
As a result, Hedera Hashgraph claims to offer features that combine the advantages of both public and private blockchain networks. 
Hedera Governance
Hedera Hashgraph is governed by a body known as the Hedera Governing Council, which is charged with running the consensus nodes that determine transaction ordering. 
As of 2020, a total of 39 members sit on the council, including Google, IBM and Boeing. The council's role is to manage the software, voting on changes, ensuring funds are allocated correctly and safeguarding the network's legal status in various jurisdictions. 
Of note is that space on the council is limited. Each member can have up to two consecutive three-year maximum terms. During this time, members have an equal vote on the network and platform decisions. 
While the Governing Council members run mainnet nodes today, the Hedera team intends to open that up to anyone who wishes to operate nodes in the future.
What Can You Build With Smart Contracts?
Smart contracts offer autonomous, self-executing logic to create an entirely new class of applications. By trusting code, instead of centralized entities, we can increase transparency and efficiency across industries.
Why Does HBAR Have Value?
The HBAR cryptocurrency is used to power the Hedera Hashgraph network, meaning users need to buy this asset to perform transactions and operate applications.
Of note for investors is that the supply of HBAR tokens is fixed at 50 billion, the entire supply of which was created when the network launched in 2018. 
Some HBAR tokens will be distributed through a process called "proxy staking," in which any HBAR holder will be able to lock their cryptocurrency in special contracts, allocating those funds to one of the approved nodes on the network
By staking HBAR with another node, users would gain the ability to earn a slice of the rewards and fees these computers receive from processing transactions on Hedera Hashgraph.
Lastly, the HBAR cryptocurrency is used to pay the transaction fees in the network.
How Many Hedera Hashgraph (HBAR) Coins Are There In Circulation?
The Hedera Hashgraph token, HBAR, has a maximum total supply of 50 billion units. Out of this, almost seven billion were in circulation as of January 2021 — equivalent to around 14% of the total supply.
According to Hedera's resources, the two project founders each have a coin grant of two billion HBARs, equivalent to 4% of the total supply each. These tokens are vested over a six-year period.
Other senior executives at Hedera (that joined prior to 2018) have coin grants of between 250 million and 300 million coins. These tokens are vested over a period that ends in December 2021.
According to Hedera's Economics Whitepaper (published June 2020), around 17.03 billion HBAR is estimated to be in circulation by 2025 — equivalent to 34% of the total supply.
How Is The Hedera Hashgraph Network Secured?
Hedera Hashgraph uses a novel consensus system known as Hashgraph consensus to keep its network secure.
This uses a rotating governing council consisting of up to 39 highly diversified organizations that span across up to 11 different industries. These are involved with directing the Hedera codebase, voting on platform decisions and operating the initial nodes on the Hedera public network.
Hedera uses a novel form of proof-of-stake (PoS) which allows HBAR users to stake their resources to help protect the network. Right now, all Hedera nodes are managed by either Hedera itself or the governing council members, but there are plans to switch to a permissionless system in the future.
\ Overall, Hedera's security setup ensures it achieves "asynchronous" Byzantine fault tolerance (ABFT) — meaning it can guarantee both the timing and order of a set of transactions, even if some data is delayed or lost.
What Makes Hedera Hashgraph Unique?
Unlike most other cryptocurrency platforms, Hedera Hashgraph isn't built on top of a conventional blockchain. Instead, it introduces a completely novel type of distributed ledger technology known as a Hashgraph.
This technology allows it to improve upon many blockchain-based alternatives in several key areas, including speed, cost, and scalability. Hedera transactions have an average transaction fee of just $0.0001 USD and typically reach finality in under five seconds. Overall, Hedera Hashgraph claims it can handle more than 10,000 transactions per second (TPS) — compared to the around 5-20 for most popular proof-of-work (PoW)-based blockchains.
Where Can You Buy Hedera Hashgraph (HBAR)?
HBAR is a popular digital asset that is available to trade on several prominent exchange platforms, including Binance, Bittrex and Huobi Global.
Some of the more popular HBAR trading pairs include HBAR/USDT, HBAR/BTC and HBAR/ETH, and there are also several fiat trading options for the cryptocurrency, including HBAR/USD, HBAR/KRW and HBAR/INR.
What Companies Use Hedera Hashgraph?
Like all crypto protocols, the hashgraph supports transactions made with the protocol's native token. In the case of some cryptocurrencies, like Bitcoin, that's all that the protocol does.
If you're up-to-date on NFTs, you know that crypto projects can be used to track anything associated with a digital identifier. Avery Denison is a materials science company that has used the Hedera hashgraph to create a "connected products cloud" by applying these digital identifiers to physical items allowing them to be tracked as they move through supply chains.
Hedera is also used for NFTs. The Hashgraph enables the ARIA Exchange, a carbon-negative NFT platform run by the ARIA network, which is also partially backed by IBM.
ServiceNow uses the Hedera hashgraph in the cloud infrastructure that enables the company's digital workflows. Instead of tracking physical items like Avery Denison, or digital items like the ARIA Network, ServiceNow uses the hashgraph to maintain a record of correspondence between entities that may be in direct competition with one another.
Similarly, Safe Health Systems Inc. uses the Hedera Hashgraph to safely and privately store patient information for users of its platform which is trusted by Mayo Clinic, Arizona State University, and others. Further, while Hedera doesn't use smart contracts, smart contract systems like Chainlink can use Hedera to make the platform even more versatile.
Special Features Of Hedera
Hedera relies on a unique communication protocol that's different from proof-of-work blockchains like Bitcoin. The Hedera distributed ledger runs on a group of nodes operated by large companies like Google and IBM using a "gossip protocol" algorithm to ensure fast, low-cost transactions.4
According to Hedera, the network can handle more than 10,000 transactions per second with a three- to five-second settlement and confirmation time. The average cost of a transaction on Hadera is just $0.0001 cent, requiring a fraction of the energy consumed by the best-known blockchains.
| | |
| --- | --- |
|   |  Hedera |
| Inception | August 2018 |
| Already Mined/ Total Supply (as of Aug. 10, 2021) | 9.29 billion current circulating supply 50 billion maximum supply |
| Special Feature | Fast, low-cost transactions for cryptocurrencies, smart contracts, and distributed applications |
Treasury Management Report
The Treasury Management Report describes the methodology used to report on Hedera's management of the pre-minted supply of hbar as directed by the Hedera Governing Council's Treasury Management and Token Economics Committee.
This report includes the following information:
• The purposes of every pre-minted hbar as decided by the Hedera Council, including unallocated hbars.
• Distribution details when the allocated hbars are transferred out or "released" to an individual or entity other than Hedera.
• The network account and illiquid supply information to inform the real-time "released" and "circulating" supply calculations.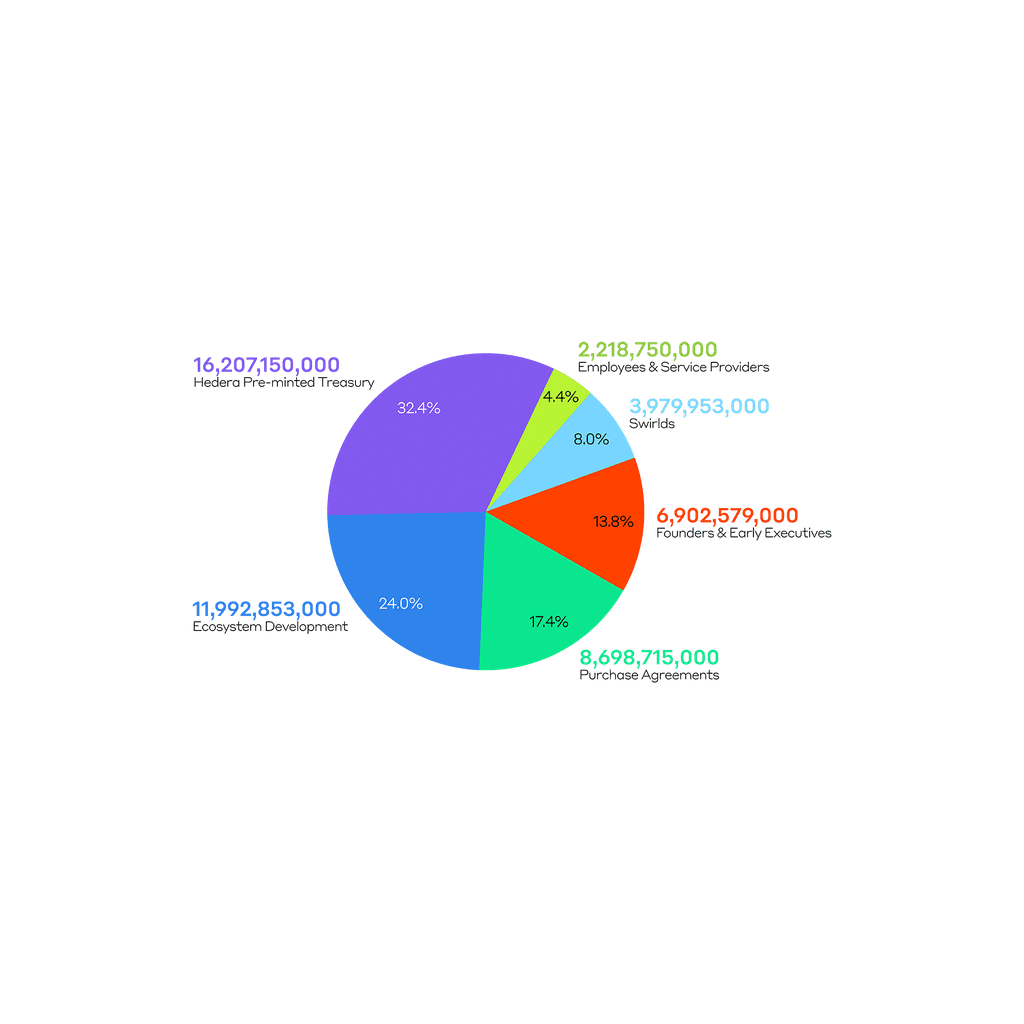 Hashgraph VS Blockchain
Hashgraph is the underlying consensus mechanism powering the Hedera public network – it's what differentiates Hedera from any other public distributed ledger.
Hashgraph consensus is a DAG (direct acyclic graph) created in 2015 by Dr. Leemon Baird. A few months later, Dr. Baird and his longtime friend and business partner, Mance Harmon, form Swirlds, Inc. (a portmanteau of "shared worlds") to develop proofs of concept and to commercialize hashgraph for private implementations. Their more extensive and longer-term vision is to use hashgraph to enable a truly decentralized, fast, fair, and secure public distributed ledger that could achieve mainstream adoption and serve as the "trust layer of the Internet" — later known as Hedera Hashgraph.
Hedera offers better performance than so-called 1st and 2nd generation blockchains like Bitcoin and Ethereum. According to their website, a cryptocurrency transaction or Hedera Consensus Service message takes between 3 – 5 seconds to settle with finality, costs USD 0.0001 (paid in HBAR cryptocurrency), and can reach 10,000 of these transactions per second.
For reference, Visa processes about 1,700 transactions per second on average, although the network can handle more traffic during peak demand. Hedera more than meets even the highest demands for transaction throughput.

Merchants can accept zero-confirmation transactions on the Bitcoin network. And while these transactions take just a few seconds to propagate through the network, they're not finalized until thirty to sixty minutes later. By having sub-5-second finality, Hedera is exponentially faster than both Bitcoin and Ethereum.
Hedera Hashgraph: Let's Think Different
The market of cryptocurrencies has been a constant attraction to traders, individuals, and institutional investors for quite some time. Showcasing tremendous middle to long-term gains, cryptocurrencies have demonstrated a notably appreciable USD price movement. The web is replete with information and advantages of Blockchain technology. Indeed blockchain industry has immense potential with many advantages to offer, especially in terms of security and speed of data transfer. However, when it comes to meeting accessibility issues, blockchain has its limitations. Before we proceed to unbiased Hedera Hashgraph price prediction, check this overview of the coin.
Hedera Hashgraph Overview
| | |
| --- | --- |
| Cryptocurrency | Hedera Hashgraph |
| Ticker Symbol | HBAR |
| Price | $0.2394 |
| Price Change 24h | -8.19% |
| Price Change 7d | +5.49% |
| Market cap | $4,683,510,683 |
| Circulating Supply | 19,565,356,901 HBAR |
| Trading Volume | $145,475,501 |
| All time high | $0.5701 |
| All time low | $0.01001 |
| Hedera Hashgraph ROI | +98.89% |
Here comes the role of distributed ledger technology that supersedes the entire gamut of blockchain-based solutions providing answers to all questions that until now remained unanswered. This Distributed technology (DLT) has been the root of genesis for Hashgraph technology or, more popularly known for its native token, HBAR. A revolutionary concept, Hedera Hashgraph HBAR empowers the Internet of things (IoT). Conceptualized to address issues, as aforementioned, pertaining to scalability, Hedera Hashgraph bases its fundamentals on making lives more empowered and expeditious.
Hedera Hashgraph: Indisputability With No Compromises
The challenges of blockchain being data accessibility and high costs have been eliminated in Hedera Hashgraph public network. This prized digital currency offered users the advantage of fixed money at no inflationary cost and slow performance. The decentralized consensus of Hedera Hashgraph makes users their masters of validation. Working on an entirely different ledger platform using directed acyclic graph creating an asynchronous Byzantine Fault-Tolerant (aBFT) consensus algorithm, the only authorized ledger is Hedera Hashgraph.
The future of the Hedera Hashgraph cryptocurrency price seems to hold lucrative possibilities. To bring stability avoiding sudden market fluctuations, HBAR will be burnt in a systematic phase-wise process. The model of HBAR is so formed that it does not support smart contracts and uses the byzantine-fault-tolerant (BFT) consensus mechanism wherein multiple nodes like Validator nodes, Witness notes, accelerator nodes, and other types of nodes are used, which all together help in transactions, validation, and authentication processes at various stages.
HBAR creates an impeccable opportunistic framework wherein other virtual tokens can also be traded. A variety of credit and debit cards are also supported on the HBAR platform, cryptocurrency, and mobile app. Hence, it can be vouched that Hedera Hashgraph is ideal for the development of decentralized applications globally with with various features, such as controlled mutability, and time-based file expiry.
Hedera Hashgraph's Future Growth
Hedera is an exciting public network that promises to solve the limitations of existing public blockchains and distributed ledgers. There are already several dozen companies and protocols that are using Hedera, which generate over 1.4 million transactions per day on the mainnet — surpassing the Ethereum blockchain. These applications span across various industry sectors, including supply chain management, healthcare, payments, and more.  There are a lot of exciting projects built, and new partnerships are always announced.
Hedera is permissioned today, with mainnet nodes run by Hedera Governing Council Members. As Hedera blazes its path towards full decentralization of its network, the mainnet will become permissionless, and anyone will eventually run nodes.