#
Name
Price
Changes 24h
Market CAP
Volume
Supply
What Is FTX Token (FTT)?
FTT is the native cryptocurrency token of the crypto derivatives trading platform FTX that launched on May 8, 2019.
The team behind FTX comprises some of the largest crypto traders over the past few years who, having found issues with most mainstream crypto futures exchanges, decided to launch their own platform. FTX claims that it stands out due to such features as clawback prevention, a centralized collateral pool and universal stablecoin settlement.
In regards to clawback prevention, a significant amount of customer funds on other derivative exchanges have been claimed by socialized losses. FTX reduces this by using a three-tiered liquidation model.
On existing crypto futures exchanges, the collateral is fragmented across separate token wallets; this can be difficult for traders as it prevents positions from getting liquidated. On the other hand, FTX derivatives are stablecoin-settled and only require one universal margin wallet.
Another feature of the FTT are leveraged tokens, which allow traders to put leveraged positions without the need to trade on margin. If a trader wants to short Bitcoin with 3x leverage, they can simply buy a 3x short Bitcoin leveraged token on FTX. These tokens are ERC20-compatible and can be listed on any spot exchange. FTX currently offers XRP, BNB, TRX, BTC, ETH, EOS, USDT and LEO leveraged tokens.
How FTT Tokens Power FTX Exchange
The FTX Exchange is powered by its own native exchange token, FTT, which plays an integral role in the FTX ecosystem. FTT tokens are based on the ERC-20 tokenization standard and have a maximum supply of approximately 339 million. Like other FTX services, FTT is not available in the U.S.
FTX has designed mechanisms to increase the utility of FTT for FTX Exchange users. For example, FTT token holders earn fee rebates on the FTX platform that depend on the amount of FTT they hold, with trading fee discounts ranging from 3% to 60%. FTT holders also receive a discount on FTX over-the-counter (OTC) prices in proportion to their existing FTT holdings, up to 0.02%.
Further, FTX exacts an anti-inflation mechanism on the FTT token supply by regularly burning a portion of the supply. In order to put deflationary pressure on FTT, FTX buys and burns FTT tokens at a rate equal to 33% of fees generated on FTX markets, 10% of net additions to the insurance fund, and 5% of fees generated from other parts of the FTX platform.
FTX Exchange users also have the option to stake FTT tokens on the platform to receive higher referral bonuses, maker fee rebates, bonus votes in community governance (in addition to standard votes based on FTT held and trading volume), waved blockchain fees for certain withdrawals, and additional airdrop rewards.
FTX Exchange's Product Offerings
FTX offers a robust suite of standard trading mechanisms — derivatives like futures and options and margin trading — as well as a variety of innovative products and services.
Some of FTX's proprietary offerings include:
Leveraged tokens: 

Leveraged tokens

 allow traders to put leveraged positions without trading on margin. By purchasing leveraged tokens with USD, traders can get more market exposure without needing to micromanage their margin or collateral. Leveraged tokens have leverage built into the token itself. BULL tokens track an underlying asset with approximately 3 times returns as a long position. BEAR tokens do the same with approximately 3 times returns as a short position.
MOVE Contracts: 

MOVE Contracts

 track how much an underlying asset moves — up 

or

 down — by the end of a determined period. In other words, a user trades on the 

volatility

 of an underlying asset rather than a particular direction. MOVE Contracts are available with daily, weekly, or quarterly expirations. MOVE Contracts function like futures contracts, except they expire to the amount an asset's price moved, rather than the price of the asset itself. MOVE Contracts are designed for traders who believe that an asset will experience sizable price movement, but are unsure of the direction. Traders can access long MOVE Contracts, which win if an asset experiences a lot of volatility, and short MOVE Contracts, which win if an asset is relatively stable.
Quant Zone: 

Quant Zone

 is a platform for designing programmatic rules to execute automatic trading strategies on the FTX Exchange platform. Traders can create Quant Zone rules and share them with other users. Quant Zone rules require a trigger condition and an antecedent response following "if, then" logic. They range from simple to complex in structure and use arbitrary formulas that include FTX market data, personal account information, and mathematical functions. For example: You can set a rule that says "if bitcoin (BTC) is below $47,000, then buy a 3 times long BTC position."
Tokenized stocks: 

Tokenized

 stocks function as spot tokens that are backed by shares of a particular stock. With a strategic partnership with CM-Equity, FTX is able to offer tokenized stocks to customers on its platform. Tokenized stocks bring the around-the-clock availability and permissionless nature of crypto to traditional stock markets. Users are also able to use their FTX exchange token voting power to voice an opinion about which tokenized stocks should be added in the future.
In addition to its robust suite of financial instruments, FTX offers a number of proprietary products on its platform. One such unique offering is prediction markets. FTX hosts a variety of prediction markets that essentially let users bet on the outcomes of real world events by utilizing futures contracts that expire according to real-world data.
FTX Exchange also features special indexes dedicated to high-cap, mid-cap, and low-cap altcoins. With these indexes, users can get exposure to baskets of altcoins based on their weighted average prices without worrying about buying specific coins individually. While prediction markets and asset indexes do exist in the crypto space, FTX Exchange represents one of the first opportunities to access such products on the same platform with a wider array of products and instruments.
Who Are the Founders of FTX Token?
The FTX Token or FTT was founded by Sam Bankman-Fried and Gary Wang.
Sam Bankman-Fried is the co-founder and chief executive officer at FTX: Cryptocurrency Derivatives Exchange. He is also the CEO of Almeda Research and worked as a director of development at the Centre for Effective Altruism. He was also a trader at Jane Street Capital from 2014 to 2017.
Bankman-Fried studied physics and has a bachelor's degree from the Massachusetts Institute of Technology.
Gary Wang is the co-founder and chief technology officer at FTX: Cryptocurrency Derivatives Exchange. He is also the chief technology officer at Almeda Research. Before this, he worked as a software engineer, after moving up from a software engineering intern at Google. He was also a software engineer intern at Facebook.
He has a Bachelor's degree in mathematics and computer science from the Massachusetts Institute of Technology.
Competitor Analysis
First Tier: BitMEX, OKEx, and Bitflyer charge roughly 5bps/trade on roughly $1.5b per day of volume, making roughly $200m/year in revenue. BitMEX has a well-designed product with a large existing userbase but no marketing, and OKEx and Bitflyer have poorly designed products with large userbases and substantial outreach.
Second Tier: Huobi DM is a recently launched product. It's poorly-designed and didn't have any foothold, but was able to leverage a large existing client base (Huobi). It now trades about $750m/day and generates about $100m/year in fees; it is also still growing.
Third Tier: Deribit has a decent but rather vanilla product. Weak marketing is driving little liquidity and a small user base to their platform; their products trade about $50m/day and generate about $10m/year in fees.
Opportunity Analysis
OTC: Currently, Alameda Research OTC trades $30m/day. We are in the process of moving all these clients to FTX OTC.
OTC Growth: With marketing, we expect our OTC volumes to double, adding another $30m/day.
Crypto Trading Firms: We have been onboarding and getting very positive feedback from top crypto trading firms. We estimate we will get at least $10m/day of FTX volume from them.
Leveraged Tokens: We will start listing leveraged tokens on other exchanges within the next month or two. We believe this will generate at least $10m/day of FTX volume.
Why FTX Is Hard to Replicate?
FTX is backed by Alameda Research, a crypto trading thought leader and the largest liquidity provider in the secondary markets. Many of the following points rely on Alameda's expertise, which makes them very hard for someone else to replicate:
Live Product: Unlike many exchanges and projects who are conducting a token raise, their exchange is already live and actually functional.
Liquidity: FTX is very liquid. It already has more liquidity than every other futures exchange in crypto; only the BitMEX BTC perpetual futures are more liquid than their FTX equivalent. This is really hard to replicate. No new exchanges will be able to do so, and those around for 5 years have only succeeded in doing so for a single contract.
New Products: They are the first to launch USDT futures and leveraged tokens. There is a huge demand for these products, and we foresee them becoming very popular.
Fast Development Cycle: FTX can leverage Alameda's tech team — an experienced, battle-tested group used to building complex crypto trading systems under time pressure. This means that their development cycle is much shorter than others; they can roll out multiple large features per day.
Strong Partnerships: Currently, they are partnered with USDC and TUSD. Because Alameda is an integral part of the secondary markets, they have strong connections with top exchanges, trading firms, OTC desks, etc. who we'll be partnering with.
FTX Key Features
FTX is an emerging platform used for crypto derivatives trading. In fact, it is making this segment of trading popular. FTX attracts people at a high rate, thanks to its advanced trading features and next-gen trading products.
In 2020, the exchange launched a number of innovative products for crypto trading. The platform provides support to leveraged tokens since it allows about 45 various leverage tokens. Besides, it is growing and offering leverage trading on S&P 500. It also enables MOVE contracts for traders who are using FTX exclusively.
The platform enables fiat currency transfers for USD, EUR, and GBP. The FTX exchange has security enabled for protecting credit card deposits. The platform also offers nearly 100x leverage on trades that have been maximizing their profit potentials. Converting stablecoins and issuing settlements is easy on FTX. Users can exchange and trade various types of crypto derivatives with a single-margin wallet. In the institutional-grade trading services, FTX enables deep liquidity and protected order books. It allows unlimited withdrawals and has a high liquidation fund. The OTC desk also offers the best customer support features, such as trading resources, knowledge materials, market navigators, live chat, and support for more than ten languages.
The FTX technical team enables various features for retail traders and institutional traders. It helps them incorporate low trading fees and tight spreads. The platform has an OTC desk, which is an essential feature for customer services. The extensive support of this team also helps in gaining access to TradingView charts. The platform is also available in the form of mobile apps on iOS and Android devices.
6 Things To Know Before You Buy FTX Token (FTT)
1. FTX.US (FTX's U.S. exchange) has a limited product range
Derivatives are complex financial instruments that essentially allow traders to bet on whether the price of an asset will go up or down. Derivatives can also be used to leverage trades — multiplying both gains and losses.
At time of writing, CoinMarketCap put FTX as the third biggest global cryptocurrency exchange in terms of trading volume. It offers several crypto derivatives products, including leveraged tokens, which allow investors to use leverage without the complications of full margin trading.
FTX can't offer all its products in the U.S. because of stricter regulation. It operates a separate site called FTX.US for American customers — but it might be able to broaden its U.S. offer soon.
2. It recently acquired a derivatives firm that's licensed in the U.S.
FTX has made some big announcements in the past few months, including the closure of a $900 million funding round. Shark Tank judge and well-known entrepreneur Kevin O'Leary also agreed to become an FTX spokesperson.
And FTX will acquire LedgerX, a derivatives company that's regulated by the CTFC to operate in the U.S. The company hopes the acquisition will help it establish a stronger position in the U.S. By buying a company that is already licensed, FTX believes it can bring its experience in international crypto derivatives trading to the U.S. market, giving it an advantage over leading exchanges like Coinbase or Gemini.
3. It has an experienced team with a great reputation
One big selling point for FTX is the talented people behind it. Cofounder and CEO Sam Bankman-Fried is well known in the crypto industry, not least because of the success of FTX and the other company he cofounded, quantitative trading firm Alameda Research.
Fun fact: Sam Bankman-Fried played a key role in rescuing the decentralized exchange (DEX) SushiSwap when it tripped on the start line. SushiSwap's chief developer, Chef Nomi, cashed out about $14 million worth of tokens less than a week after the launch, prompting fears the project had been a scam. Bankman-Fried stepped in, temporarily taking control before setting up a group (elected on Twitter) to jointly hold the SushiSwap keys.
4. Increased regulation could be problematic
There's a lot of talk about crypto regulation in many countries around the world. In the U.S., authorities are concerned about the way crypto exchanges work, the lack of investor protection and controls in decentralized finance (DeFi), and the role of cryptocurrencies in general.
We know that increased regulation is coming. But we don't know what form it will take, or how it might impact existing regulated businesses like LedgerX. If the U.S. clamps down on all crypto derivatives trading, that could put a dent in FTX's U.S. ambitions.
However, FTX is serious about compliance. Bankman-Fried has repeatedly stressed that FTX is committed to staying on the right side of regulation. He believes it is important for the crypto world to work with regulators rather than treating them as the enemy.
5. FTT is not available from major U.S. exchanges
The FTT token is not listed on top cryptocurrency exchanges in the U.S. In fact, according to FTX's website, U.S. residents are not allowed to trade FTT tokens. This may change as FTX beefs up its U.S. offer, but right now it is difficult for Americans to buy FTT.
6. The price is up over 1,000% this year
Like many cryptocurrencies, the price of FTT has risen considerably since the start of this year. On Jan. 1, 2021 FTT cost $5.77 — and it is now trading at over $60. The token has made a considerable jump in the past few months. The price has more than doubled since the start of July.
The challenge with the wild price swings in cryptocurrency is that it's almost impossible to predict whether a coin will continue to gain in value, or whether a big price jump means it is about to fall again. It certainly doesn't make sense to buy in the hope of another 1,000% return in the short term. But if you live outside the U.S. and want to buy, first look at FTT's fundamentals to decide if you think it makes a good long-term investment.
If you do buy, make sure you only spend money you can afford to lose. All cryptocurrency investments are risky, and there are a lot of things we don't know about how this market will evolve. The idea of high returns is tempting, but there's also the risk the value of your investment could fall to zero.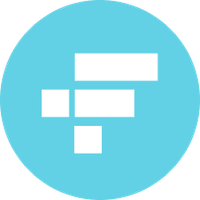 FTX Review: Pros And Cons
Pros

Cons

 The KYC process for this platform is easy and helps in increasing the trading limits.
 Leveraged tokens on FTX are risky investments.
 The platform specializes in crypto derivatives trading.
 FTX is a relatively new platform in the crypto space. 
 FTX also guarantees liquidity for all its users. 
 
 FTX charges low fees on all its tradable products and services. 
 
 The platform also allows cryptocurrency purchases via credit cards through the Simplex gateway.
FTX.US At A Glance
Less than 30 cryptocurrencies available
Allows some fiat pairs
Centralized
Tiered fee structure based on volume 
Custodial wallet available at FTX.US
Get a free coin with every trade over $10
Payment processor with FTX pay
FDIC insurance available on U.S. dollar funds held at FTX.US
Mobile app available for iOS and Android
Cryptocurrencies Available On FTX.US
While FTX.US offers advanced trading options, you won't see a wide selection of cryptocurrencies (fewer than 30). However, FTX.US does offer access to major cryptos, including:
Bitcoin (BTC)
Ethereum (ETH)
Litecoin (LTC)
Bitcoin Cash (BCH)
Tether (USDT)
Solana (SOL)
Dogecoin (DOGE)
ChainLink (LINK)
Uniswap (UNI)
Aave (AAVE)
In addition to cryptocurrencies, FTX.US offers spot trading between the U.S. dollar (USD) and the following fiat currencies:
Euro (EUR)
Canadian dollar (CAD)
Great Britain pound (GBP)
Australian dollar (AUD)
FTX.US Fees
FTX.US uses a maker-taker spot trading model. You can set a limit order, as a "maker," creating a price at which you want the transaction to occur. As a "taker," you execute a market order, which results in you completing the transaction at current market prices. In general, a maker pays lower fees on FTX.US than a taker. Fees are arranged in tiers, which are based on your 30-day trading volume and get lower if you're more active.
Maker fees range from 0.00% to 0.10%, based on your tier
Taker fees range from 0.05% to 0.40%, based on your tier
In general, you will pay fees based on the target currency and your status as maker or taker. For example, if you want to trade BTC/USD, as a taker, you'd pay fees in U.S. dollars, while the maker on the selling side of the transaction would pay their fees in Bitcoin.
ACH Fees
FTX.US charges an ACH transfer fee of $0.50, whether you deposit or withdraw. However, you can avoid this fee on deposits if:
It's your first ACH deposit
You're depositing more than $100
You deposit at least $10 and made a deposit within a week
This means you are better off doing fewer larger amounts than more frequent smaller amounts, though this is mitigated by the exemption for subsequent deposits within a week.
Crypto Fees
There are no fees for deposits, and you will only see withdrawal fees on the Ethereum and OMNI tokens. In those cases, you're responsible for gas fees.
Should You Buy?
With so many cryptocurrencies to choose from, if you invest for the long term, it's important to buy coins that have solid fundamentals and are likely to do well over time. Even then, only invest money you can afford to lose, as the cryptocurrency market can be incredibly volatile and risky.
As an exchange, FTX seems positioned to perform well in the long run, which bodes well for FTT. It has a great team and a clear business plan that sets out both the problems it wants to solve and how it proposes to address them. And, unlike many cryptocurrencies, it has a straightforward use case.
Plus, the recent LedgerX deal could help grow FTX. US's product offerings and differentiate it from the more established crypto exchanges in America. Right now, FTX is strong internationally, but its customer base in the U.S. is limited because of the restrictions on its product offering.
However, as U.S. authorities consider how best to strengthen crypto exchange regulations, there's a good chance all forms of derivatives trading will come under the microscope. Bankman-Fried believes that regulatory compliance is important and thinks crypto exchanges need to work with regulators, not against them.
Another issue is that FTT is not easy to buy in the U.S. Indeed, according to FTX's website, U.S. residents are "not permitted to transact in FTT." While it may be possible to buy FTT from a decentralized exchange, trading in tokens that are not authorized does carry additional risks.